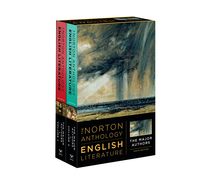 The Norton Anthology of English Literature, The Major Authors
Tenth Edition
Volume:Two-Volume Set
December 2018
AN ANTHOLOGY THAT TURNS LITERATURE NOVICES INTO LITERATURE LOVERS

With such an abundance and variety of literature, everyone can find something to cherish in the Norton Anthology. Carefully crafted apparatus helps students gain understanding of and appreciation for the selections. Engaging resources—including a new video series—bring the literature to life. No wonder students hold onto their Nortons long after the course is over.

NEW COMPLETE MAJOR WORKS. NEW CONTEMPORARY AUTHORS

Five NEW complete major works—all much requested—join the already generous roster:
• Swift, Gulliver's Travels
• Austen, Love and Friendship
• Byron, Manfred
• Dickens, A Christmas Carol
• Woolf, A Room of One's Own

We added (NEW) stories by contemporary authors Kazuo Ishiguro, Hilary Mantel and Chimamanda Ngozi Adichie. They join the exciting lineup of fiction by Alice Munro, Margaret Atwood, J. M. Coetzee, Salman Rushdie and Zadie Smith. The Norton includes more contemporary authors than any comparable English literature anthology.


TWENTY-FIVE NEW VIDEO MODULES TAKE STUDENTS "BEHIND THE SCENES"

Designed to enhance student engagement and classroom discussion, the videos were conceived of and narrated by the anthology editors. Give students a fascinating window into the literary past and present, whether through a close look at rarely seen books and manuscripts, a guided tour of literary settings, or interviews with living authors.

THE NAEL ARCHIVE—SEARCHABLE, EASY-TO-ACCESS, FREE RESOURCES

We know that bringing the texts and contexts of English literary history to life in the classroom is the goal of every instructor—and Norton's goal is to support you. Sorting through thousands of resources can be challenging and inefficient, but the newly reconceived NAEL Archive makes it easy to find the resources you need. The Archive is a searchable, sortable suite of student and instructor resources, including supplemental readings, videos, images and more.

THE APPARATUS YOU TRUST—REVISED FOR TODAY'S STUDENTS

For over fifty years, the Norton Anthologies have set the standard for editorial help that is right for undergraduates. In the Tenth Edition, the editors have refreshed the apparatus to reflect both new scholarship and changing classroom interests. Introductions and headnotes have been revised; hundreds of annotations and glosses fine-tuned; and bibliographies carefully updated. All this with the goal of helping students better understand the text, without telling them what to think.