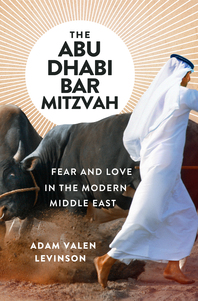 The Abu Dhabi Bar Mitzvah
Fear and Love in the Modern Middle East
Description
Chronically questioning, funny and bold, a young American writer explores the majority-Muslim lands that scare him most.
Armed only with textbook Arabic and restless curiosity, Adam Valen Levinson set out to "learn about the world 9/11 made us fear". From a base in Abu Dhabi, he sets out to lunch in Taliban territory in Afghanistan, travels under the watchful eye of Aleppo's secret police, risks shipwreck en route to Somalia, investigates Yazidi beliefs in a sacred cave, cliff-dives in Oman, celebrates New Year's Eve in Tahrir Square and, at every turn, discovers a place that doesn't match its reputation.
While politicians and the media eagerly stoke the flames of Islamophobia, Valen Levinson crosses borders with abundant humour and humanity. Seeking common ground everywhere, he finds that people who pray differently often laugh the same. And as a young man bar mitzvahed at twenty-one (instead of the usual thirteen), he slowly learns how childish it is to live by decisions and distinctions born of fear.
Reviews
"A thrilling, riotous, sympathetic read that reminds us that little in the world is truly 'foreign', bringing the peoples and cultures of the Middle East nearer to us, and pushing hatred and fear farther away." — Reza Aslan, author of God: The Human Quest to Make Sense of the Divine
"A fabulously written primer on the darkest countries in the world—or not so dark, as Valen Levinson shows with his toolkit of sharp sociology and brilliant humor. This brave, humane, hilarious, and introspective account of his adventures is a must-read." — Peter Theroux, author of Sandstorm: Days and Nights in Arabia