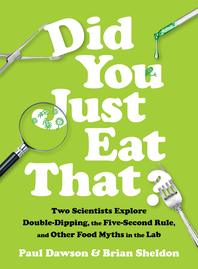 Did You Just Eat That?
Two Scientists Explore Double-Dipping, the Five-Second Rule, and other Food Myths in the Lab
Description
A rollicking yet rigorous inquiry that follows the science of germs into the kitchen, restaurant and everywhere else you eat and drink.
Did You Just Eat That? provides the answers to perennial questions about food and germs, such as whether electric hand dryers spread fewer germs than paper towels or about picking a crisp off the ground within five seconds of dropping it.
The authors show how they have determined everything from how much bacteria gets transferred from sharing utensils to how many microbes live on restaurant menus. They list their materials and methods, guide the reader through their results and offer explanations of food safety and microbiology. Written with humour, this fascinating book reveals surprising answers to the weirdest and most commonly debated questions about food and germs.