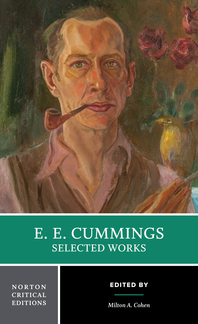 E. E. Cummings
Selected Works
Description
This Norton Critical Edition includes:
166 poems spanning the range of Cummings's career, selections of his prose and dramatic writing, twelve paintings and sketches, and three facsimiles of his drafts—the first ever annotated and cross-genre collection of his work aimed at student readers.
Annotations, headnotes and a thorough introduction by Milton A. Cohen, along with an essay by Cohen chronicling the development of Cummings's idiosyncratic style.
Four contemporary reviews and six critical essays—by Randall Jarrell, Edmund Wilson, Isabelle Alfandary and Michael Webster, among others—prefaced by an overview.
Comparative studies of two poems—featuring five different responses to each—designed to promote classroom discussion.
A chronology, a selected bibliography and an index of the poems.