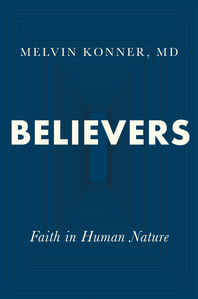 Believers
Faith in Human Nature
Description
An anthropologist examines the nature of religiosity and how it shapes and benefits humankind.
Believers is a scientist's answer to attacks on faith by some well-meaning scientists and philosophers—a firm rebuke of the "Four Horsemen": Richard Dawkins, Daniel Dennett, Sam Harris and Christopher Hitchens. Melvin Konner, who was raised as an Orthodox Jew but has lived his adult life without such faith, explores the psychology, development, brain science, evolution and genetics of the religious impulses we experience.
He views religious people with a sympathetic eye; his own upbringing, his apprenticeship in the trance dance religion of the African Bushmen and his friends in Christian, Buddhist, Hindu, Muslim and other faiths have all shaped his perspective. He concludes that religion does much good as well as undoubted harm and that for at least a large minority of humanity, the belief in things unseen neither can nor should go away.
Reviews
"In this thoughtful, comprehensive, well-written book, he [Konner] explores the psychology, development, brain science, evolution and even possible genetics of the varied religious impulses our species experiences." — Human Givens