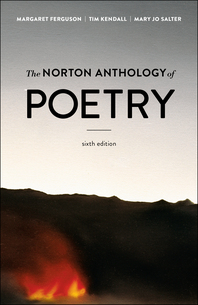 The Norton Anthology of Poetry
Sixth Edition
7 March 2018
FLEXIBLE. FRESH. ABUNDANT. AN ANTHOLOGY TO KEEP

With 1,871 poems (351 NEW) and 355 poets (44 NEW), The Norton Anthology of Poetry gives teachers a diverse and flexible core text. No other poetry anthology offers such abundance, which is why students hold onto their anthology long after the course ends; it is their poetry reference for life.

MEDIA-RICH INTERACTIVE RESOURCES

The Sixth Edition features a wealth of dynamic resources, including the NEW Poetry Workshops—6 online tutorials that bring poetic concepts to life using audio, video and interactive exercises. Students also benefit from a playlist of audio recordings (a collaboration with The Poetry Archive) and Poets in Dialogue notes that draw connections between poems across time or geographic distance.

RECONCEIVED AND REFRESHED APPARATUS HELPS STUDENTS UNDERSTAND AND APPRECIATE POETRY

In response to instructors' requests, the Sixth Edition includes a NEW glossary of terms related to versification and syntax and hundreds of fine-tuned annotations and glosses. Updated biographical sketches offer brief but helpful information about the poets themselves.