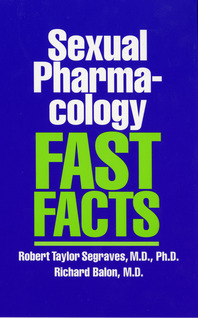 Sexual Pharmacology
Fast Facts
Description
Sexual side effects of pharmacological agents are often an unspoken cause of treatment noncompliance.
Controlled studies in the United States, UK, and Spain have consistently found that approximately 75% of patients who experience sexual side effects from prescribed medication will not volunteer this information without direct questioning.

Nonetheless, many clinicians do not have easy access to reliable information concerning sexual side effects of pharmacological agents. This handy reference provides up-to-date and rapid access to the latest available data concerning sexual side effects of various pharmacological agents for psychiatrists and physicians.

Initial chapters are devoted to a brief review of the physiology of sexual function, the prevalence of sexual dysfunction in the general population, and how to identify drug-induced sexual dysfunction. Following the initial overview chapters, subsequent chapters are be grouped by classes of drugs, allowing clinicians and physicians rapid access to clinically relevant information. Separate chapters are devoted to data concerning sexual side effects of antidepressants, antianxiety drugs, antipsychotic agents, antihypertensives, urological agents, cardiovascular drugs, and other classes of drugs. The chapters focus on common sexual side effects that may be unspoken causes of treatment noncompliance such as inability to ejaculate, anorgasmia, difficulty in reaching orgasm, erectile dysfunction, and lubrication failure. Reports of decreased libido are often difficult to interpret; for that reason, data concerning libido will only be reported if the evidence clearly supports a diagnosis of disturbed libido as a drug side effect. Final chapters are devoted to pharmacological treatment of sexual disorders.