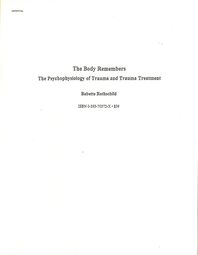 The Body Remembers Continuing Education Test
The Psychophysiology of Trauma & Trauma Treatment
Description
A continuing education test for The Body Remembers. 
Based on ideas put forward in the bestselling The Body Remembers, Babette Rothschild emphasizes the importance of tailoring every trauma therapy to the particular needs of each individual client. This program is available for 6 Continuing Education (CE) Credits through the co-sponsorship of PsychoEducational Resources, Inc. (PER) and W. W. Norton and Company. PER is approved by the American Psychological Association (APA), the Association of Social Work Boards (ASWB) and a wide variety of other state boards for social work, marriage and family therapy and licensed professional counseling. 
Completing this program should 1) extend your knowledge about the theory and application of this psychotherapeutic approach, 2) enhance your awareness of recent developments with this approach, and 3) provide an illustration of its application in actual practice.