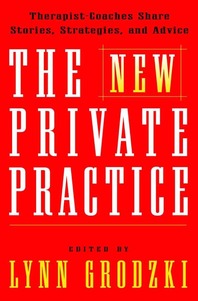 The New Private Practice
Therapist-Coaches Share Stories, Strategies, and Advice
Description
The profession of personal and business coaching has exploded during the past five years, both in the US and internationally. An estimated twenty percent of all coaches have a background in a mental health-related field.
As more therapists consider using coaching skills to diversify their practices, the need for information and advice from those who have successfully made the transition from therapist to coach is crucial. The New Private Practice: Therapist-Coaches Share Stories, Strategies, and Advice is the first book designed to specifically meet this need. The book, a compilation of essays from successful therapist-coaches working in the field, offers personal narratives, trade secrets, honest discussions about what to charge and how to find clients, as well as clear-cut, how-to-get-started advice. By the end of the book, readers will have a good overview of executive, personal, peak performance, and special niches coaching. Each chapter offers insight and information, as the therapist-coaches tell how they broke into coaching, what it took to build their practices, and what it's like to spend a day in their shoes.

The book is edited by Lynn Grodzki, one of the pioneer therapist-coaches and author of the best-selling Building Your Ideal Private Practice. In her introduction, she explains the differences and similarities between coaching and psychotherapy, the challenges and benefits faced by therapists who add coaching to their skill sets, and how the coach-client relationship compares to the therapist-client relationship.