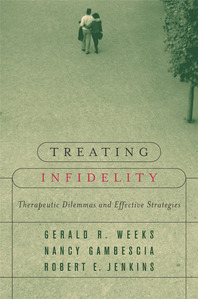 Treating Infidelity
Therapeutic Dilemmas and Effective Strategies
Description
Infidelity is one of the leading presenting problems for couples entering counseling.
Confronted with a betrayal of intimacy, the couple's relationship is in an extremely fragile state; the damage is often irreparable. In these trying circumstances, couples need an effective and confident therapist. Yet, cases of infidelity are notoriously difficult to treat. Therapists often approach this problem with apprehension, uncertainty, and a lack of confidence about what to do. The emotional and intellectual resources of the most skilled practitioner are severely taxed by the needs of the couple in crisis.

In Treating Infidelity, Weeks, Gambescia, and Jenkins provide therapists and counselors with concepts, insights, and therapeutic plans that will allow them to work effectively with couples undergoing a crisis of broken intimacy. The authors address this severe therapeutic challenge with a comprehensive and inter-systematic approach that carefully considers the concerns of the couple, the partners as individuals, and the role of the therapist. Because it is a relationship problem, infidelity requires a flexible clinical regimen combining elements of individual and conjoint therapy within a systemic orientation. The authors have long used just such a regimen in their own clinical work with clients experiencing relational and sexual dysfunctions. Treating Infidelity presents the insights and organization of this successful clinical model, and provides a systematic and powerful way for couples to repair and recover from an affair.

The multifaceted phenomenon of infidelity is explored in rich detail. The authors offer a conceptual framework that accounts for the varied contributing factors, common presentations, and the numerous consequences of infidelity. The heart of the book is concerned with recognizing when a breach in the couple's agreement about exclusivity has occurred and assisting the couple in achieving the goal of forgiveness. Relying on their novel empirically-based approach, the authors demonstrate how forgiveness can be attained even in the most difficult cases where shame, accusatory suffering, anger, or fear can obstruct resolution. Moreover, Treating Infidelity addresses the conditions necessary for establishing the level and quality of communication that maintains a deep sense of intimacy between partners.

The core of this powerful but flexible clinical approach is the understanding that there are various forms of intimacy (e.g., sexual, emotional, intellectual) and significant variations in what constitutes a breach of intimacy. Today, infidelity constitutes a more expansive category than adultery or extramarital sex. It includes any form of betrayal to the implied or stated contract between couples regarding intimate exclusivity, such as cybersex and other forms of Internet infidelity. In fact, as the contexts, forms, and consequences of infidelity grow more complex, therapists and counselors need the sort of systematic but flexible approach found in Treating Infidelity. The experience and circumstances of infidelity are unique to each couple. The authors demonstrate this necessary flexibility in their approach and convey how therapists must place the personal experience of clients at the center of treatment.

Reviews
"[A] core book in the growing field of infidelity research and intervention….This book will serve as a valuable resource to both researchers and clinicians….Those working in the field owe a debt of gratitude to the authors for their fine contribution." — Journal of Sex & Marital Therapy