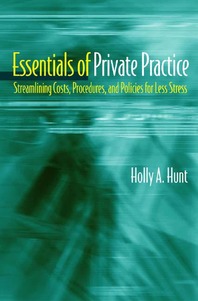 Essentials of Private Practice
Streamlining Costs, Procedures, and Policies for Less Stress
Description
Are you in private mental health practice?

Are you planning to be soon? Perhaps you are in graduate school and already dreaming about having your own practice? Maybe you are newly-licensed and preparing to be your own boss. Or perhaps you have been working hard in a group practice for several years but are frustrated by not taking home a substantial share of the income.

Wherever you are in the early stages of your career, Essentials of Private Practice can help you get started.Using lessons learned from years of different practice arrangements, Holly Hunt has assembled a collection of effective strategies that will help mental health professionals successfully establish and maintain their private practices. Because graduate school does not typically provide crucial practice management skills, Hunt guides readers through all the fundamental issues ranging from choosing an office in an area whose demographic you want to work with, to covering important first-session policies and paperwork with new clients, to dealing with clients' insurance carriers and getting paid quickly.Increasing efficiency while reducing costs and stress are the themes central to Hunt's practical suggestions to private practitioners. Dividing the book into three primary strategies-lowering overhead expenses, simplifying daily procedures, and implementing efficient client policies-she advises readers on a wide range of practice issues. From locating a safe and accessible office to navigating the lease/sublease option and deciding on phone, pager, and voicemail systems, all the practice basics are addressed. More complex issues are also covered, including making an initial assessment of income base and expenses before launching a private practice, leaving a group and going solo, establishing an expense-sharing arrangement, verifying client's benefits before beginning treatment and keeping billing procedures organized to facilitate insurance payments. In addition, key strategies are detailed to enhance client treatment and ensure payment for services, ranging from collecting client fees, to implementing a successful cancellation policy, and establishing effective phone practices and policies.Filled with highly useful, streamlining steps from a seasoned practitioner, Essentials of Private Practice is a crucial resource for all those in or seeking to create a private practice, teaching professionals how to retain more income, preserve time and energy, and minimize stress in their day-to-day practice.