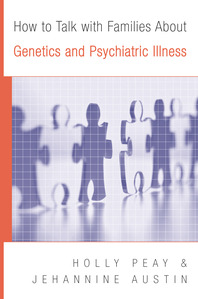 How to Talk with Families About Genetics and Psychiatric Illness
Description
Addressing clients' questions and concerns about the role of genetics in mental illness.
As we learn more about how our biology and genes can play into the development of a mental health disorder, patients and their families are increasingly seeking answers to tough questions about common risk factors, the likelihood of recurrence, the need for genetic testing, and implications for future generations.
A practical, go-to resource for all mental health clinicians, this guide explains just how to address these questions and concerns in a way that's comprehensible and compassionate. Filled with case studies, sample dialogues, and question-and-answer examples, it is an essential roadmap for practitioners, helping them to demystify a complex issue for their clients and equip them with the accurate, reassuring information they need.
Reviews
"[A]n excellent resource that should be required reading in graduate programs for nurse practitioners and clinical nurse specialists in psychiatric tracks. Likewise it would be excellent reading for primary care nurse practitioners since a high percentage of complaints that nurses deal with have a mental health origin… This will be a valuable book for all practitioners dealing with individuals with mental health concerns…. Highly recommended." — CHOICE
"This book is a remarkable achievement, and essential reading for all mental health clinicians, physicians, and genetic counselors. Peay and Austin have answered the critical need for a resource that prepares clinicians to help individuals and families make sense of the complex and rapidly-advancing field of psychiatric genetics. There is simply no other book like this." — Jordan W. Smoller, MD, ScD, Associate Professor of Psychiatry, Harvard Medical School Center for Human Genetic Research
"A must-read for all mental health and genetics clinicians . . . its easy-to-read, question-and-answer format reflects the most common clinical concerns. By providing straightforward, specific language to use with patients, as well as counseling aids, case examples, and practical tips for incorporating genetic information into clinical practice, Peay and Austin help mental health practitioners easily translate research findings into their clinical work with patients and families." — Christine Finn, PhD, Director, Psychiatry Residency Training Program, and Director, Crises and Consultation Service, Dartmouth Hitchcock Medical Center