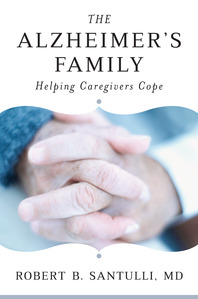 The Alzheimer's Family
Helping Caregivers Cope
Description
Responding to families' questions and fears with compassion.
Typically the patient—and his or her course of treatment—are the natural focal points when it comes to Alzheimer's disease (AD). But Alzheimer's is an equally debilitating illness for family members and caregivers who must come to terms with its far-reaching emotional and physical burdens.

In this handbook, clinicians are taught how to navigate the many interpersonal issues at the heart of AD—that is, how to work with the families and friends of the patient. Santulli addresses everything from how to respond compassionately to their likely questions and concerns, how to clearly explain symptoms and risk factors, when to suggest consultation with a geriatric specialist, and how to sensitively
discuss issues of long-term treatment and care.
Reviews
"[A]n elegant, articulate handbook for families of Alzheimer's victims. It should be among the first that they read as they educate themselves regarding the often difficult, but potentially reinforcing, journey ahead. For professionals in geriatrics, gerontology, and Alzheimer's disease diagnosis and treatment, the book will further extend their repertoire for the conversations that should take place and suggests who should be at the table from the beginning." — Activities, Adaptation & Aging
"This book does an excellent job of highlighting the tasks of a primary caregiver and differentiates between passive, active, cognitive, and behavioral caregiving. . . . I would recommend this volume for physicians, psychologists, social workers, psychotherapists, counselors, care managers, case workers, nurse practitioners, and staff at senior centers, senior care agencies, and long-term care facilities." — Journal of Psychiatric Practice
"[C]learly written, timely, useful…. Highly recommended." — CHOICE
"Dr. Santulli helps the clinician understand the family dynamics when one member of the family becomes ill with a life-changing illness such as Alzheimer's. The clinician learns how to help the family cope, and pull together, and become a family of caregivers…. When the family truly understands their situation, knows what's ahead for them, and has a clinician who understands their needs through all the stages of Alzheimer's, everyone is better equipped to copy…. [W]ill help physicians and clinicians understand and become expert at coping and assisting families and loved ones as they face the crisis of Alzheimer's." — The Alzheimer's Support blog
"[A] powerful, top pick for any Alzheimer's family and their friends, filled with keys to the assessment process and keys to coping both long-and short-term." — Midwest Book Review
"Santulli has beautifully captured the nature of families in all of their dynamic complexity, particularly when the disease of Alzheimer's comes into their lives. There is a lot of practical information and wisdom in these pages from an experienced clinician. This book is essential reading for professionals of all backgrounds who help families face the inevitable challenges, as well as recognize the opportunities for growth and healing." — Darby Morhardt, MSW, LCSW, Research Associate Professor and Director of Education, Cognitive Neurology and Alzheimer's Disease Center, Northwestern University Feinberg School of Medicine
"Every family facing Alzheimer's seeks a doctor who 'gets it'—who has the capacity and willingness to become an expert on them. Dr. Santulli's patient- and family-centered clinical expertise offers practical strategies to a broad range of health care professionals eager to offer genuinely helpful family-specific Alzheimer's care." — Lisa P. Gwyther, MSW, LCSW, Director, Duke Aging Center Family Support Program, and couthor of The Alzheimer's Action Plan: A Family Guide