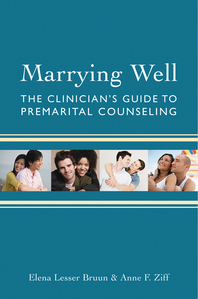 Marrying Well
The Clinician's Guide to Premarital Counseling
Description
Nearly half of all marriages in the U.S. still end in divorce. Clearly, there is a strong need for universal effective premarital counseling and counselors.
This book is aimed both at experienced therapists who wish to expand into this area of practice, and novice premarital counselors and couple therapists who need to understand the unique challenges and issues faced by premarital couples in the twenty-first century. Separate chapters discuss how to recognize key factors in individuals and couples that predict long and happy marriages (such as empathy, flexibility, shared goals, and the ability to make each other laugh), and the most common issues presented by couples in premarital counseling and how best to address them, such as: differing racial, cultural, and ethnic backgrounds; differences in religious beliefs and attitudes; sexual issues; money; and disagreements about whether to have or how to raise children. Here, the therapist will also learn how to help clients decide whether or when to get married, how to help couples deal with the stress and issues brought on by wedding planning—and how to work with couples whom the therapist thinks might be better off not getting married.

Bruun and Ziff rely on their combined decades' worth of clinical experience, presenting numerous case studies that illustrate the variety of couples seeking premarital counseling today. The result is an excellent introduction to contemporary premarital counseling that offers sage advice and practical approaches to working with couples dealing with contemporary premarital challenges.
Reviews
"Any clinician who has despaired at the challenges of how to help a couple in the throes of a disintegrating marriage will fi nd in this book a clear and compelling message—that an ounce of prevention (meaning premarital counseling) can do wonders in helping couples avoid many of the predictable pitfalls endemic in modern marriages. This book delivers a concise review of existing research about the effectiveness of premarital counseling programs, a clear and cogent model of how to engage couples in thoughtful discussions about their future marriages, and a treasure-trove of clinical case material that brings alive the authors' premarital counseling model." — Peter Steinglass, MD, President Emeritus, Ackerman Institute for the Family
"[A] great introduction to working with premarital couples and provides valuable insight into how clinicians can more effectively work with this population." — Journal of Couple and Relationship Therapy
"Befitting their backgrounds, Bruun and Ziff remind all therapists why and how we can help our clients learn psychoeducational approaches and skills for becoming and remaining a successful married couple. Fortunate will be the couple that engages in premarital counseling—especially with a clinician who has read this valuable book. Highly recommended!" — Robert Selverstone, PhD, Psychologist, Family & Couple Therapist in private practice and former Chairman of the Board, SIECUS
"Broad in scope, Marrying Well is a fascinating, occasionally provocative, yet evenhanded treatment of a very sensitive topic that provides an excellent overview of this fast growing field. This is a must-read book for every professional involved in helping couples prepare for and succeed at married life." — Linda Carter, PhD, Clinical Associate Professor of Psychiatry and Director, Family Studies Program, NYU Child Study Center