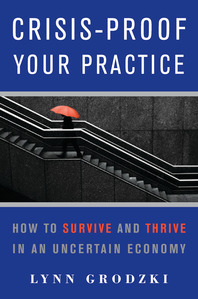 Crisis-Proof Your Practice
How to Survive and Thrive in an Uncertain Economy
Description
The only book of its kind: a comprehensive, yet strategic and practical 4-point plan for strengthening a private practice during a time of crisis.
Written to help therapists and other helping professionals survive and thrive during an uncertain economy, Crisis-Proof Your Practice is an important tool for weathering the current crisis of Covid-19. As those in private practice contend with new challenges caused by the pandemic, including the parameters of telehealth, working within quarantine, cash flow problems, client cancellations, and overwhelm of helping those in need—they find that they need advice for their business as well as guidance for their personal well-being.

Lynn Grodzki is considered a pioneer in the field of practice -building, and she brings a needed perspective to those small business owners who want to secure the safety of their practices during a time of global economic worry, confusion and anxiety.

Readers will learn how to quickly assess the health of their existing private practices to address and then repair areas that are weakened by situational problems caused by a recession or a global shutdown. After receiving solid advice on how to minimize risk, they can adopt one of the four best business models, designed to allow the practice to stay viable during and after a time of crisis. Grodzki explains strategies for financial management, steps to take for low cost and effective marketing, and ways to prepare for the future, including how to build a practice not just to own, but eventually to sell. She inspires readers to adopt an entrepreneurial mindset to be open to change and spot the many opportunities that inevitably arise during a time of crisis.

As with her earlier books, Grodzki translates basic and sophisticated business concepts for those in a service, health-oriented practice. She offers anecdotes, examples and ideas gleaned from years of coaching thousands of clients, combining a healthy dose of tough love with compassion and optimism.

This book belongs on every therapist's bookshelf, to be read in times like Covid-19 and beyond, to refer to when needed. And even when not faced with a current crisis, reading this book for prevention is a wise move as it offers what every small business owner needs: a crisis-proofing plan that can light your way in times of darkness or help you to avert disaster altogether.