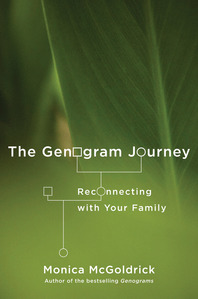 The Genogram Journey
Reconnecting with Your Family
Description
The godmother of genograms revises her revelatory work that explores how to reconnect with your past and invent a new future.
This notable work poignantly explains how a tool of family history—gathering the genogram, or a basic family tree—can help us to better understand and mend family relationships and dynamics. Here, fully updated for the first time, Monica McGoldrick's book elaborates on the ways in which genograms can reveal a family's history of estrangement, alliance, divorce, or suicide, exposing intergenerational patterns that prove more than coincidental. Weaving together photographs and genograms of famous families—including the Kennedys, the Freuds, and the Fondas—she sheds light on a range of complex issues such as birth order and sibling rivalry, family myths and secrets, cultural differences, couple relationships, and the pivotal role of loss.

In this important work, readers learn to mine previously untapped information about their own family patterns, leading to a reconnection to home and a deeper sense of identity. Originally published as You Can Go Home Again.
Reviews
"[G]eneral readers will find that this book is very helpful in researching and understanding family information and patterns of behavior." — Library Journal
"McGoldrick...offers an innovative method of combining genealogical research with self-awareness." — Publishers Weekly
"Monica McGoldrick, godmother of genograms, has triumphed again...Theories and practical application are explained with colorful genograms of the great, the good and those gossiped about—the rich family dynamics of the Brontes, the Jungs, and the Fondas are offered as scaffolding for learning. There are few scholarly books that entertain, delight and educate in equal measures. This is one of them." — The British Journal of Psychiatry
"Monica McGoldrick is our most important and trusted voice on the subject of families. Her splendid new book unwraps famous families as no one has done before, while giving us a hopeful and transforming perspective on the 'ordinary' families we come from. This book should be stamped 'Not for professionals only' because it will teach all readers to reconnect with the past and invent a new future. Every man and woman in therapy can hope that their therapist has discovered this book." — Harriet Lerner, PhD, author, The Dance of Anger, The Dance of Intimacy and The Dance of Connection