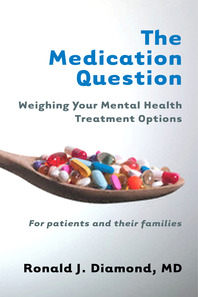 The Medication Question
Weighing Your Mental Health Treatment Options
Description
Helping patients and their families understand the factors and considerations when deciding whether or not to take psychotropic drugs.
This important volume provides a thorough overview of a range of mental disorders, describing how they are affected by various medications and other interventions, to foster a strong alliance between family, patient, and clinician.

Diamond asks us to step well back from the brink of the "doctor knows best" mentality, addressing a more basic and radical question: Do I (or does my family member) really need medication, and if so, why, what, when, how and for how long? What is the problem for which I might be considering taking medication? Diamond faces the facts that some individuals do not benefit from medication, that taking medication regularly should never be the goal of treatment (as it often seems to be), and that medication in some conditions may have meaning and utility for the person even when there is no proven clinical indication for it.

This book is an invaluable guide to medications—including complementary and herbal products—that you might consider for various psychiatric and psychological conditions. Clinicians, clients, and family members alike will learn to collaborate, negotiate, create individualized treatment plans, and share in the decision-making process about whether to medicate or not.
Reviews
"[A]n excellent compendium for anybody evaluating their mental health treatment choices as well as for those helping others weigh their options. . . . If you or a loved one recently received a psychiatric diagnosis and are now trying to figure out which treatment is the correct choice, you should consider taking a look at Dr. Diamond's latest book. . . . [He] does a superb job of breaking down the essential, need-to-know information about the most commonly used psychiatric medications." — PsychCentral
"This text is a mix of self-help and a demystification of the DSM, the bible for mental health providers and insurance companies, and thus will be interesting to many readers including scholars looking for an easy reference guide on mental health, patients looking for self-understanding, therapists looking for brief and clear exposition of pharmaceutical treatments, and psychiatrists who may treat diagnoses rather than patients." — Metapsychology
"Diamond has drawn on his decades of experience and dedication to produce an extraordinary book. It is easy to read, yet provides an amazing amount of valuable, up-to-date information. I recommend it highly for persons with mental illnesses, their friends and family members, as well as for mental health professionals, particularly those in training." — Frederick J. Frese, PhD, Associate Professor, Psychiatry Department, Northeast Ohio Medical University, and former 1st Vice President, National Alliance on Mental Illness
"[S]olid reference helping weigh the pros and cons of various mental health options." — Midwest Book Review
"If you are considering taking medications, Diamond provides the most concise, comparative, up-to-date, and clearly organized compendium that I have ever seen for mental health consumers and carers. It is also an edifying read for clinicians who need a humane guide or eloquent reminder about how to talk with sensitivity to clientele and families about the potential role, virtues, and pitfalls of taking medications." — Professor Alan Rosen, Senior Consultant Psychiatrist, Centre for Rural & Remote Mental Health, University of Newcastle