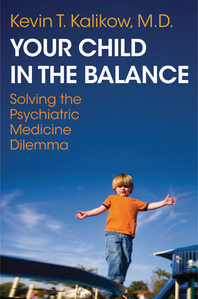 Your Child in the Balance
Solving the Psychiatric Medicine Dilemma
16 March 2012
Territory Rights — Worldwide including Canada, but excluding the British Commonwealth.
Description
A thorough and balanced resource for parents facing decisions about their children.
This book deftly navigates the thorny subject of whether and when to give prescription psychiatric medication to children and adolescents. A perfect overview for parents looking for an accessible guide, this book takes readers through the basics of diagnosis and treatment in children and adolescents. Your Child in the Balance is chock full of a wide variety of clinical scenarios, each demonstrating the challenges faced by parents and professionals who are considering the use of medication.

The book teaches the reader how to analyze the risks and benefits that characterize all medicines and that underlie the decision to medicate. The principles discussed in Your Child in the Balance will resonate with parents and professionals whether they are considering Ritalin and Adderall or Prozac and Zoloft. The use of antipsychotics, like Abilify and Risperdal, and even holistic sleep medicines, like melatonin, are put into an even-handed perspective, as is the question of whether psychiatric medicines are over or under prescribed to children.

Your Child in the Balance culminates with an extended story of parents who struggle with whether to medicate their daughter, Rosie. Every parent will identify with the emotions experienced by Rosie's parents as they wrestle with this important decision. The book concludes with a guide to help all parents navigate this vexing, but crucial, choice.
Reviews
"This book is an excellent tool for parents to consult when they are faced with the decision of medicating their child. The book is easy to read, humorous at times, and the many vignettes are helpful in understanding and giving life to the different concepts that are discussed in the book. The advice given in the book and guidelines for weighing risks and benefits are priceless for parents needing a practical way to make a decision." — Journal of Child and Family Studies
"[A] wonderful book . . . a huge gift to moms and dads." — Gloria De Gaetano, Director, Parent Coaching Institute
"A superb and much-needed guide to the complex world of psychiatric medications for children. Dr. Kalikow delves deeply into a subject that is usually only superficially addressed. He discusses both the science and the psychology of medications, and gives parents both the knowledge and the guidance they need to make the right decisions. I could not recommend this book more highly. Truly a brilliant work." — Edward Hallowell, MD, bestselling author of Driven to Distraction
"Your Child in the Balance is a wonderful book. It provides parents with much needed, scientifically sound, and wise advice on psychiatric medications for children and teenagers. It will help parents navigate the important decisions about what treatments are safe and effective for their children." — Harold S. Koplewicz, MD, President, Child Mind Institute and author of More than Moody
"Kalikow's book provides the helping hand that most parents need . . . Your Child in the Balance is a thoughtful overview . . . The warmth and readability of this book makes Dr. Kalikow's wisdom easy to absorb." — Judith Rapoport, MD, author of The Boy Who Couldn't Stop Washing and Chief, Child Psychiatry Branch, National Institute of Mental Health