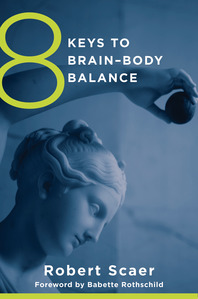 8 Keys to Brain–Body Balance
Description
Take-charge strategies to heal your body and brain from stress and trauma.
Understanding how our brains and bodies actually work is a powerful tool in mitigating the anxiety generated by unpleasant physical and emotional symptoms that we all may experience from time to time. Here, Robert Scaer unravels the complexities of the brain-body connection, equipping all those who are in distress with a plausible explanation for how they feel.

Making the science accessible, he outlines the core neurobiological concepts underlying the brain-body interface and explains why physical and emotional symptoms of stress and trauma occur. He explains why "feelings" represent physical sensations that inform us about the nature of our brain-body conflicts. He also offers practical, easy-to-implement strategies for strengthening motor skills, learning to listen to our gut to gauge our feelings, attuning to the present, and restoring personal boundaries to relieve symptoms and navigate a path to recovery.

Reviews
"In his latest comprehensive and accessible book, Robert Scaer has drawn from his deep understanding of neurology, neuroscience, and traumatology to offer the trauma patient practical knowledge for recovery and self-understanding. Presenting his material in a readable and enjoyable way, Scaer empowers his readers through his compassionate wisdom. This book will help anyone wishing to integrate their bodies and brains more effectively and harmoniously." — Peter Levine, PhD, Director, Somatic Experiencing Trauma Institute
"This book penetrates the world of neuroscience in a user-friendly, unpretentious yet scholarly manner, highlighting the critical relevance to clinical practice of past and current discoveries about the brain and its malleability. Scaer's perspective as a neurologist is unique, hopeful, and empathic, and this integrative book will prove an encouraging resource for anyone seeking to understand the effects of trauma on brain and body." — Pat Ogden, PhD, Founder/Director of the Sensorimotor Psychotherapy Institute, first author of Trauma and the Body: A Sensorimotor Approach to Psychotherapy