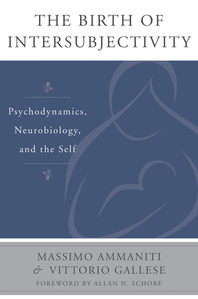 The Birth of Intersubjectivity
Psychodynamics, Neurobiology, and the Self
Description
Neurobiological research helps explain the experience of motherhood.
This book, the exciting collaboration of a developmental psychoanalyst at the forefront of functional magnetic resonance attachment research and a leading neurobiological researcher on mirror neurons, presents a fresh and innovative look at intersubjectivity from a neurobiological and developmental perspective. Grounding their analysis of intersubjectivity in the newest advances from developmental neuroscience, modern attachment theory, and relational psychoanalysis, Massimo Ammaniti and Vittorio Gallese illustrate how brain development changes simultaneously with relationally induced alterations in the subjectivities of both mother and infant.

Ammaniti and Gallese combine extensive current interdisciplinary research with in-depth clinical interviews that highlight the expectant mother's changing subjective states and the various typologies of maternal representations. Building on Gallese's seminal work with mirror neurons and embodied simulation theory, the authors construct a model of intersubjectivity that stresses not symbolic representations but intercorporeality from a second-person perspective. Charting the prenatal and perinatal events that serve as the neurobiological foundation for postnatal reciprocal affective communications, they conclude with direct clinical applications of early assessments and interventions, including interventions with pregnant mothers.

This volume is essential for clinicians specializing in attachment disorders and relational trauma, child psychotherapists, infant mental health workers, pediatricians, psychoanalysts, and developmental researchers. It combines fascinating new information and illustrative clinical experience to illustrate the early intersubjective origins of our own and our patients' internal worlds.
Reviews
"The Birth of Intersubjectivity takes a unique perspective on intersubjectivity in the context of the parent-child relationship. Ammaniti and Gallese combine research and theory from various disciplines in a logical and cohesive manner. . . . [I]deal for clinicians who specialize in relational trauma, attachment disorders or child psychotherapy as well as developmental psychologists." — Somatic Psychotherapy Today
"In [this book], Massimo Ammaniti and Vittorio Gallese, both high-profile researchers, offer a tour de force overview of the current understanding of intersubjectivity: how an individual relates to and understands others." — PsychCentral
"The masterful collaboration of a creative clinician and a leading investigator of the brain's relationally programmed motor neuron mirroring system. Intersubjectivity, or shared meaning, is at the forefront of discourse in psychoanalysis and the neurosciences. The authors' engaging review of emerging scientific knowledge, ongoing work, and new integrated thinking about the prospect of early preventive intervention will benefit a wide readership." — Robert N. Emde, Emeritus Professor of Psychiatry, University of Colorado; Honorary President, World Association for Infant Mental Health
"Exploring new science that proves the sympathetic transfer of intentions and feelings between bodies and brains, Gallese and Ammaniti deepen psychoanalytic insights on how an expectant mother's love for her infant supports the growth of intimate trust and joyful companionship after birth. Clinical accounts argue that the anxieties of mothers and fathers may harm these vital intersubjective bonds and undermine the developing self-confidence of a child. Defining principles of care for the growth of individuals in relationships with knowledge and insight, the authors offer important guidelines for protective and therapeutic practices of all kinds to aid new families." — Colwyn Trevarthen, PhD, Emeritus Professor of Child Psychology and Psychobiology, Department of Psychology, University of Edinburgh
"The Birth of Intersubjectivity is the most sophisticated, comprehensive, and ambitious book on the subject. With rigor and grace, Ammaniti and Gallese integrate knowledge from cognitive neuroscience, infant mental health, psychoanalysis, genetics, neonatology, and the arts to propose a rich vision of what makes us distinctly human. Bringing a contemporary European perspective to North Americans, this book is indispensable for both clinicians and researchers alike." — Stephen Seligman, DMH, Clinical Professor of Psychiatry, Infant-Parent Program, University of California, San Francisco; Joint Editor-in-Chief, Psychoanalytic Dialogues