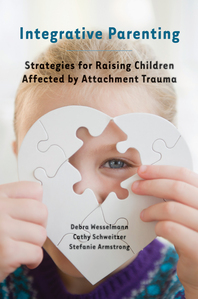 Integrative Parenting
Strategies for Raising Children Affected by Attachment Trauma
Description
An accompanying parent's guide filled with effective techniques to help challenging children with traumatic pasts.
Designed as a manual to complement the clinician's guide,
Integrative Team Treatment for Attachment Trauma in Children: Family Therapy and EMDR,
 this book is written for birth, foster, or adoptive parents, aunts and uncles, grandparents, or anyone who may be raising a child who has experienced attachment loss and trauma. Their severe behaviors can often leave caregivers feeling confused, frightened, hurt, and overwhelmed, as they struggle to make sense of a massive amount of information—and misinformation—that exists on attachment issues.
This book provides understanding, validation, and solutions for these caregivers. In it, the authors explain their innovative model of "team" treatment that includes an EMDR therapist and a family therapist. Best used in conjunction with therapeutic help, it walks readers through an array of parenting strategies that will lead them to a deeper understanding of their traumatized child, and better enable them to calm their behavior and improve their attachment security so they can heal.
Reviews
"A wonderfully supportive supplement to Integrative Team Treatment, this book provides a gentle, step-by-step approach to examining oneself and exploring where triggers to past beliefs and traumas impede trauma-sensitive parenting. I can't wait to share the book with my clients." — Kathleen Bush, LCPC Clinical Program Manager
"Integrative Parenting beautifully synthesizes an array of research and clinical models into practical and clear applications for parents. Readers will learn specific solutions and strategies for parenting traumatized children, along with a new lens and internal compass for viewing their children's behaviors that will guide them long after reading the book." — Karen Doyle Buckwalter, MSW, LCSW, Director of Program Strategy, Chaddock, Quincy, Illinois
"A rich, wise, and compassionate book on parenting attachment-traumatized children. The authors' devotion, vast experience, and wisdom provide a rare depth of insight into the puzzling inner world of traumatized children, along with specific guidance for skillful and nurturing parenting. Drawing on key techniques from EMDR therapy, this state-of-the-art approach brings much-needed help to the parents, caregivers, and children so in need of practical care." — Charlotte Sophia Kasl, PhD, author of Women, Sex, and Addiction and If the Buddha Had Kids: Raising Children to Create a More Peaceful World
"Integrative Parenting offers essential, up-to-date, and practical information for parents and extended family members of children who have experienced attachment loss and trauma. The authors explain the brain science of attachment trauma in clear and accessible language and provide pragmatic behavioral calming and skills building activities with sample parent-child conversations, which foster and adoptive parents will find invaluable. For families whose children are receiving care based on the authors' professional treatment manual, Integrative Team Treatment for Attachment Trauma in Children, this wonderful parent guide provides an orientation to their team approach to EMDR therapy and a roadmap for helping children build new, secure family connections." — Andrew M. Leeds, PhD, Director of Training, Sonoma Psychotherapy Training Institute