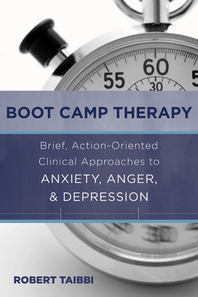 Boot Camp Therapy
Brief, Action-Oriented Clinical Approaches to Anxiety, Anger, & Depression
Description
Incorporating brief therapy with an innovative "boot camp" approach to help clients overcome three of the most prevalent issues in therapy.
In some cases long-term therapy that seeks to assess a client's history and gain insight over the course of many sessions isn't always possible. Immediate behavior change and concrete steps to fix the problem at hand are sometimes more practical and desirable.

Grounded in a results-oriented brief therapy model, this user-friendly guide presents the author's "boot camp" approach—focusing on a client's immediate behavior, helping them to do things differently, take action, concentrate on process, and use targeted goals and homework to jump-start and motivate them into taking risks and breaking patterns. Following this approach, Taibbi walks readers through session-by-session treatment "maps" for achieving solutions to three of the most common issues in therapy.
Reviews
"Written much like the therapy it describes, the book's focused, action-oriented style is clear and easy to follow. Whether you are an experienced therapist or just starting out in your career, if you are considering focusing on a shortened therapeutic approach or just want to expand your current therapeutic repertoire, this book has something to offer." — PsychCentral
"[R]eaders who have an interest in these three deep human challenges – anger, depression and anxiety – and their roots will find this a fascinatingly useful quick read." — Blue Heron Journal
"As the pragmatics of clinical work today mandate that we incorporate brief therapy skills into our repertoire, Boot Camp Therapy simultaneously respects and challenges our current treatment orientation. This book is bold stuff that will make you uncomfortable-a guiding principle is 'ready, fire, aim'-but Robert Taibbi immediately tethers readers to a simple, overarching perspective and step-by-step structure for this action-focused therapy. I am so glad I took the time to read this fast-paced book on fast-paced therapy." — Reid Wilson, PhD, author of Don't Panic: Taking Control of Anxiety Attacks
"This should be required reading in every psychotherapy training program!" — Margaret Wehrenberg, author of The 10 Best-Ever Anxiety Management Techniques