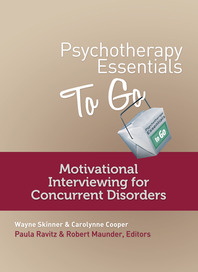 Psychotherapy Essentials to Go
Motivational Interviewing for Concurrent Disorders
Description
A quick-reference, multi-media guide to using Motivational Interviewing (MI) to treat co-occurring disorders.
Addiction—whether to alcohol and drugs, sex, gambling, or Internet use—and mental health problems often go hand-in-hand. This concise book summarizes the key principles of a particular therapeutic approach to concurrent disorders, Motivational Interviewing (MI), which guides clients in eliciting and strengthening their desire for change. Laying out a four-stage treatment model—engagement, preparation, active treatment, and continuing care—the book walks readers through key facets of the therapeutic rapport at the heart of MI: working collaboratively on goals; connecting to the patient by understanding his or her strengths, needs, and concerns; and using the core MI skills of open questions, affirmations, reflections, and summaries ("OARS"). Readers are immersed in the spirit of MI through explanations and illustrations, preparing them for the practical challenges of therapeutic work with clients who suffer from addiction and mental health problems.

Included in this comprehensive guide are a DVD of sample therapy sessions and clinical explication that describe how to implement the protocol, as well as a laminated pocket reminder card. An on-the-go package of practical tools that busy clinicians won't want to be without.
Reviews
"I enjoyed this series from two different perspectives: The first perspective is as a professor of counseling who occasionally teaches theory. Students using these books will find them readable, thorough, and applicable to the practice of therapy. New therapists will find them useful to consolidate their own use practice, and they will possibly be introduced to new material. . . . For the experienced practitioner who wants to expand into other modalities, these books introduce a new therapeutic approach. And for those who have only had a quick overview of many theories, this series offers another look, and possibly new material to add to what was already studied. . . . I recommend this series and hope that it will be expanded to include other therapeutic approaches." — The Milton H. Erickson Foundation Newsletter
"Psychotherapy Essentials To Go is a truly impressive series of books. Elevating pragmatics over dogma, it is grounded in the wisdom of front-line psychotherapists who adapt the core principles of empirically supported psychotherapies to flexibly address a myriad of clinical issues. No other series of psychotherapy handbooks is as skillfully concise and yet thorough. It will quickly become a standard reference for teaching and enhancing clinical competence." — Zindel V. Segal, PhD, Distinguished Professor of Psychology in Mood Disorders, University of Toronto–Scarborough; author of The Mindful Way Through Depression
"Skinner and Cooper's accessible guide perfectly reflects the engagement process that is so crucial to Motivational Interviewing. The authors clearly understand the vital spirit of this evidence-based method. Please read and use their book!" — Carolina Yahne, PhD, New Mexico Licensed Psychologist; Entrenadora de la Entrevista Motivacional; Motivational Interviewing Network of Trainers
"Motivational Interviewing for Concurrent Disorders is an essential guidebook for introducing the basic MI principles and practices to frontline therapists working with dually diagnosed clients. A vital tool for therapists with limited access to specialized training and supervision, this book is packed with clear, instructive, compassionate, interactive, and clinically relevant materials for self-guided or peer-led small-group learning. A refreshing addition to the literature." — Steve Martino, PhD, Chief of Psychology, VA Connecticut Healthcare System; Professor of Psychiatry, Yale School of Medicine