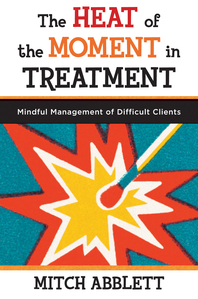 The Heat of the Moment in Treatment
Mindful Management of Difficult Clients
Description
How to warm up to the clients that stop you cold.
Have you experienced the anger, fear, doubt, and frustration that most clinicians feel but rarely put words to? Have you ever overreacted to a client in session or found yourself overwhelmed by the work with that client in your caseload? Are you looking for tools to manage your most "difficult" clients? Chances are, you're like all other clinicians: At times you play "tug-of-war" with those in your care.
The Heat of the Moment in Treatment is for clinicians looking to explore, reassess, and transform the way they treat their most difficult clients. With carefully designed mindfulness-based exercises, self-assessments, and skill development activities, this workbook helps clinicians understand their own role in therapeutic interactions, as well as how to proactively respond to tough client behavior in ways that improve the prospects for successful treatment.

Author Mitch Abblett acts as a sensitive, expert guide, laying out a roadmap for the toughest of clinical encounters that almost all therapists face, whether seasoned or just starting out. His use of relatable metaphors, rhetorical questions, and stories from his own experience allows readers to reflect upon their own psychotherapy practice without feeling like there is one right way to deal with challenging clients.

The Heat of the Moment in Treatment will help clinicians move beyond assumptions and reactive impulses to their "difficult" clients. Readers will gain proactive clinical leadership skills, while learning how to expand mindful awareness of self and others to access compassion and empathy for any client—even when the "heat" of moment-to-moment interaction in session is hard to tolerate.
Reviews
"Entertaining, lively and incredibly resourceful, this book is highly recommended and applicable to clinicians who already have a mindfulness based practice and want to enhance it or for those like me, who have always been curious and want to know how to begin." — New England Psychologist
"Abblett's book provides an in-depth look at how we can deescalate things when clients get under our skin. . . . [His] style is entertaining and engaging, and he fills the book with real-life cases and other personal experiences. His willingness to share his own struggles – and missteps – with clients creates a safe space for us as readers. . . . Through the text's examples I was able to see my own mistakes and consider how things could have gone differently." — PsychCentral
"[O]rganized in such a way that every chapter teaches the clinician a lesson. . . . This book has the potential to be a powerful tool for clinicians to connect with their clients, both challenging and not, on a level they never have before by teaching the clinician how to set limits while still keeping a compassionate and constructive relationship." — International Journal of Psychotherapy
"Written in a disarmingly genuine, humorous, and self-disclosing style, The Heat of the Moment in Treatment explores the barriers to effective communication that clinicians carry and how we can carry them in a lighter way. It is packed full of practical and highly revealing self-exploratory exercises, case examples, and easy-to-follow clinical guidelines for working with difficult clients in difficult situations. This book should be required reading in every graduate program for mental health and addiction training. Destined to become a classic!" — Kirk Strosahl, PhD, author of Brief Interventions for Radical Change