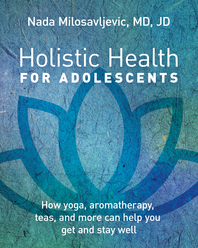 Holistic Health for Adolescents
Description
How yoga, aromatherapy, teas and more can help you get well and stay well.
Stress. Fatigue. Depression. Sleeping problems. Issues with focus and concentration. Headaches. Substance abuse. These are all very common problems that teenagers have to deal with. It turns out that rather than just sending kids to therapy or giving them some prescriptions for medication, there are many alternative therapies available that have evidence-based track records of success. This book presents therapies based around the five senses—including aromatherapy, yoga, sound/music therapy—to help teens with their mental health.
Each chapter reviews the signs and symptoms of a problem and presents detailed treatment protocols and supportive therapies. This all-inclusive book will be one-stop shopping for teens and their parents looking for a different way to handle life's problems.
As both a trained medical doctor on the faculty at Harvard and a noted alternative medicine specialist, Nada Milosavljevic brings a rich background of experience to this book.