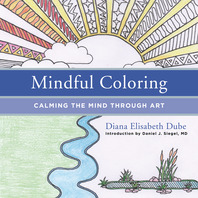 Mindful Coloring
Calming the Mind Through Art
Description
Discover the therapeutic benefits of colouring.
This gorgeously detailed colouring book is filled with whimsical and relaxing art that inspires, soothes the mind, and unlocks the mental health benefits of colouring.
Hand-drawn by an expert illustrator and teacher, the artworks in this book are both representative and abstract. Each page offers a unique opportunity for self-expression and reaching a peaceful state of mindful awareness. Readers will find everything from sunsets, gentle rain and other images from nature to abstract patterns specially designed to help them colour away their stress, reflect on their day and emerge with a healthier sense of self.
Colouring is not only calming and rejuvenating but also therapeutic. An introduction by New York Times best-selling author Daniel J. Siegel, clinical professor of psychiatry at the UCLA School of Medicine, sets the stage for understanding the mental and emotional benefits of colouring.