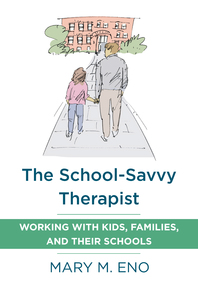 The School-Savvy Therapist
Working with Kids, Families and their Schools
Description
When it comes to therapy with kids, collaborating with schools and families is essential.
Kids encounter problems at school that run the gamut from school violence, to complex systemic problems rooted in poverty or racism, to daily struggles with homework or making friends.Therapists who work with kids typically do not receive training about when and how to contact schools, or about how to work with them collaboratively. The School-Savvy Therapist by Dr. Mary Eno provides a framework, tools, and guidelines for doing just that.
Drawing on research, illustrative case examples, and interviews, this practical resource describes what therapists need to know about schools and how they can effectively foster a supportive child–family–school dynamic. From reviewing test results, conducting school observations and attending family–school meetings, to helping parents advocate for their kids and more, this book will help therapists understand the critical role they play in supporting kids who struggle at school.Checklists, questions, and specific guidelines are provided so that both novice and experienced therapists can engage in this work with skill and confidence.
Reviews
"Mary Eno has enormous firsthand experience in transforming what can be contentious and unproductive interactions into meaningful conversations that make a significant difference in the lives of children and families. Her respect and compassion for all parties in the complicated relationship between families, therapists, and schools permeate every page. She brings her rigor, quest for knowledge, and astutely questioning mind to the thorny dilemmas she's posed and doesn't shirk from confronting the possible roadblocks and pitfalls of the very difficult and delicate balancing act that therapists face. The School-Savvy Therapist is a unique and invaluable guide that should be required reading for all clinicians who work with children." — Frances Schwartz, Ph.D., LCSW, Educational Consultant, and Martha Edwards, Ph.D., Director, Center for the Developing Child & Family, Ackerman Institute for the Family
"The School-Savvy Therapist is the definitive guide to decoding and bridging the worlds in which kids live: home and school. Keenly aware of the complexities of the two landscapes, Dr. Mary Eno expertly provides a comprehensive, nuanced, and incisive roadmap for synthesizing them in the therapeutic setting. Her book is essential reading for novice and seasoned clinicians alike, and will empower schools and parents in the crucial task of educating our children while stewarding their well-being." — Tamar Chansky, Ph.D., Founder Children's and Adult Center for OCD and Anxiety, author of Freeing Your Child from Anxiety, Freeing Your Child from Negative Thinking, and Freeing Yourself from Anxiety
" Any well-intended therapist working with children, their families, and schools can easily get lost amidst the dense forest of contemporary education's many challenges—unless you have a guide. Reading Mary Eno's book, The School-Savvy Therapist, is like being accompanied by a wise inhabitant fluent in multiple languages, who knows where to go, how to get there, and what to avoid. It's the ecology of education at its healing best: a practical, collaborative, systemic, and strength-based path forward that sees the forest and the trees." — Jay Lappin, MSW, LCSW, Minuchin Center for the Family; Adjunct Faculty, Graduate School of Education, University of Pennsylvania
"Dr. Eno expertly captures the power of a productive collaboration between school and family and provides an accessible guide for how to broker that collaboration by building synergistic family-school relationships. Her strengths-based perspective, peppered with case examples and viewpoints from practicing clinicians and educators, makes this book a tremendous resource for those who are learning to be child or family therapists, and for those who are training the next generation of therapists." — Mary Rourke, Ph.D., Associate Professor of Clinical Psychology, Widener University
"The School-Savvy Therapist is an action-oriented, comprehensive, and incredibly thought-provoking resource for professionals. Dr. Eno offers practical tips and expertise for therapists who seek to effectively work with schools to foster a positive collaboration between family, school, and child. As a teacher who has worked with dozens of therapists, I applaud Dr. Eno's thorough understanding of school dynamics and her relentless focus on the child and the benefits that can come when families, therapists, and schools work to solve problems together." — Elena Carlson, M.Ed., Second Grade Teacher, Lower Merion School District
"Mary Eno's insight into the culture and systems of schools and families provides rare and indispensable wisdom and context for therapists working with children. A brilliant colleague to many educators during her lifelong career as a therapist in schools, she has provided a masterful summary of her experience. Dr. Eno's professional skill, compassion, curiosity, and empathy ring beautifully through her writing in The School-Savvy Therapist. " — Rich Nourie, M.Ed., Head of School at Abington Friends School
"Families and schools are often 'worlds apart.' When children have behavior or learning problems, it is vital that the people in these worlds learn how to collaborate. But first they have to get to know each other. Mary Eno's comprehensive, readable guide shows therapists when, why, and how to engage with worried parents, frustrated school staff, and troubled students. The engaging text is threaded with case studies and practical tools, such as checklists of questions to guide interviews and family-school meetings." — Theodora Ooms, Former Director, Family Impact Seminar
"The School-Savvy Therapist is an invaluable and critical resource for all clinicians working with school-age children and their families. Rooted in systems theory, this seminal work provides effective and practical guidance to assist clinicians in successfully navigating the complex landscape of schools today. Providing a theoretical framework, as well as illustrative case examples and guiding questions, The School-Savvy Therapist is the authoritative handbook on how to effectively collaborate with school systems and personnel to foster a truly supportive family–child–school dynamic." — Eleanor DiMarino-Linnen, Ph.D., Superintendent of Schools, Rose Tree Media School District, Licensed Psychologist, Certified School Psychologist
"Mary Eno's detailed and intimate perspective on working relationships between parents, children of all ages, and educators in all kind of schools is remarkable. Rich cases cut through professional jargon to examine subjects ranging from homework and bullying to special education and today's anxious school climate. The book is wonderful, and not only for therapists." — Graham S. Finney, Founding Board Member, Mastery Charter Schools (Philadelphia), Former Management Consultant (Urban Affairs, Education)
"Especially in this new era of Active Shooter drills in our nation's schools, the need for effective school counselors, school psychologists, and school therapists has never been more urgent. Exceptionally well-written, organized, and presented, The School-Savvy Therapist is an ideal curriculum textbook for college and university library curriculums, as well as a critically important addition to school district and other academic library Psychology & Education collections. It should be noted for the personal reading lists of school counselors, school psychologists, school therapists, psychology students, academia, and non-specialist general reader with an interest in the subject." — Midwest Book Review