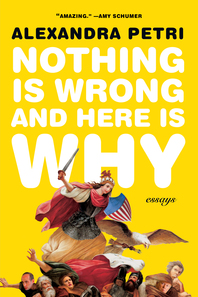 Nothing Is Wrong and Here Is Why
Essays
Description
These impossibly cheerful essays on the routine horrors of the present era explain everything from the resurgence of measles to the fiasco of the US presidency.
In Nothing Is Wrong and Here Is Why, acclaimed The Washington Post satirist Alexandra Petri offers perfectly logical, reassuring reasons for everything that has happened in recent American politics and culture that will in no way unsettle your world view.
In essays both new and adapted from her viral columns, Petri reports that the Trump administration is as competent as it is uncorrupted, white supremacy has never been less rampant and men have been silenced for too long. Q-Anon makes perfect sense! At the centre of the book is a virtuosic account of the past four years, a history as surreal and deranged as the Trump administration itself. This Panglossian venture into the swampy present will soothe— and terrify readers.
Reviews
"[Petri is] a fresh and prolific voice, someone who [is] able to make the painful reality of our current sociopolitical dumpster fire not just very, very funny, but stingingly poignant." — Julie Klam, The Washington Post
"We all have that one friend who has the rare ability to make us laugh... even under the direst of circumstances. A friend whose dry wit, touching on everything from electoral politics to women's equality, is more than just banter: It also punctuates intellectual points and helps frame opinions. That's what it feels like to read Alexandra Petri's new book.
" — Tiffany D. Cross, The New York Times Book Review