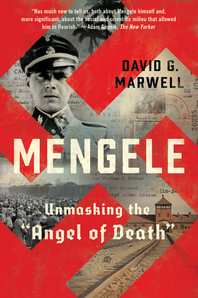 Mengele
Unmasking the "Angel of Death"
Description
A gripping account of the infamous Nazi doctor from a former US Justice Department official tasked with uncovering his fate.
Josef Mengele has come to symbolise both the evil of the Nazi regime and the failure of justice. Drawing on new scholarship and sources, David G. Marwell examines Mengele's life, chronicling his university studies, which led to two PhDs; his wartime service, in combat and at Auschwitz, where his "selections" determined the fate of countless innocents and his "scientific" pursuits resulted in the traumatisation and death of thousands more; and his post-war refuge in Germany and South America.
Mengele describes the international search in 1985, which ended in a cemetery in Sao Paulo and the forensic investigation that produced overwhelming evidence that Mengele had died—but failed to convince those who, arguably, most wanted him dead. This is a story of science without limits, escape without freedom and resolution without justice.
Reviews
"It must be the most thorough-going account of Mengele's life available to date, a calm and professional read, but one that inevitably makes you want to look away." — The Spectator
"What specifically distinguishes Marwell's account from previous studies concerns his personal involvement in the Justice Department's Office of Special Investigations (O.S.I.) and the search for and identification of Mengele." — The International New York Times
"Gripping… sober and meticulous." — David Margolick, The Wall Street Journal
"Marwell's life has much new to tell us, both about Mengele himself and, more significant, about the social and scientific milieu that allowed him to flourish." — Adam Gopnik, The New Yorker
"Compelling... At once a compact biography of the notorious war criminal, a detailed account of Mengele's flight to South America, and an absorbing narrative of the quest to bring him to justice." — Patricia Heberer Rice, Science