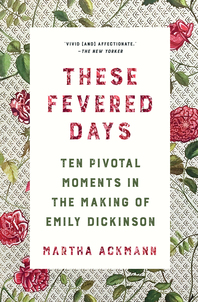 These Fevered Days
Ten Pivotal Moments in the Making of Emily Dickinson
Description
An engaging, intimate portrait of Emily Dickinson that sheds new light on her ground-breaking poetry.
On 3 August 1845, Emily Dickinson declared, "All things are ready"—and with this, her life as a poet began. Despite spending her days almost entirely "at home", Dickinson's interior world was extraordinary. She loved passionately, was ambivalent towards publication, embraced seclusion and created 1,789 poems that she tucked into a dresser drawer.
Martha Ackmann unravels the mysteries of Dickinson's life through ten decisive episodes that distil her evolution as a poet. She follows Dickinson through her religious crisis while a student, her decision to ask a famous editor for advice, her letters to an unidentified "Master", her frenzy of composition and her terror in confronting blindness. These ten days provide new insights into Dickinson's wildly original poetry and render a concise and vivid portrait of this enigmatic figure.
Reviews
"Martha Ackmann is a rare scholar. She is steeped in her subject's work, but also fills her book with the light and sounds of Dickinson's home. Dickinson is at once the most mysterious and yet most accessible of American poets, and she led what has been called the most remarkable unremarkable life in American letters. Ackmann does justice to this creative paradox in her warm and stirring book." — Cullen Murphy, The Atlantic