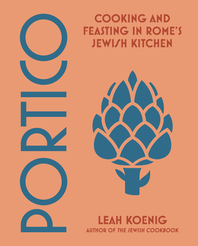 Portico
Cooking and Feasting in Rome's Jewish Kitchen
Description
A captivating tour through Rome's centuries-old Jewish community with more than 100 simple, deeply flavourful, vegetable-forward recipes.
"Naming the book Portico is my way of saying, 'Welcome. I'm glad you are here.'"
A leading authority on Jewish food, Leah Koenig celebrates la cucina Ebraica Romana within the pages of her new cookbook. Portico: Cooking and Feasting in Rome's Jewish Kitchen features over 100 deeply flavourful recipes and beautiful photographs of Rome's Jewish community, the oldest in Europe. The city's Jewish residents have endured many hardships, including 300 years of persecution inside the Roman Jewish Ghetto. Out of this strife grew resilience, a deeply knit community and a uniquely beguiling cuisine. Today, the community thrives on Via del Portico d'Ottavia (the main road in Rome's Ghetto)—and beyond.
Leah Koenig's recipes showcase the cuisine's elegantly understated vegetables, saucy braised meats and stews, rustic pastas, resplendent olive oil–fried foods and never-too-sweet desserts. Home cooks can explore classics of the Roman Jewish repertoire with Stracotto di Manzo (a wine-braised beef stew), Pizza Ebraica (fruit-and-nut-studded bar cookies) and of course, Carciofi alla Giudia, the quintessential Jewish-style fried artichokes. A standout chapter on fritters—showcasing the unique gift Roman Jews have for delicate frying—includes sweet honey-soaked matzo fritters, fried salt cod and savoury potato pastries (burik) introduced by the thousands of Libyan Jews who immigrated to Rome in the 1960s and '70s. Every recipe is masterfully tailored to the home cook, while maintaining the flavour and integrity of tradition. Suggested menus for feasts round out the usability and flexibility of these dishes.
Reviews
"A gorgeous, heartfelt book that shines light on a uniquely delicious corner of Roman cuisine. A fascinating read—and a delight to cook from!" — Gwyneth Paltrow
"A talented interpreter of both cuisine and culture, Leah Koenig combines her celebrated research skills and cooking chops with a tenderness that brings Rome's Jewish recipes and stories to life. I'm heartened to know that any time I want, I can simply open Portico to bring authentic, soulful Jewish Rome into my home kitchen." — Adeena Sussman, author of Sababa: Fresh, Sunny Flavors from My Israeli Kitchen
"How do you distill Europe's most ancient Jewish cuisines into a single volume without compromising their richness? Ask Leah Koenig, who has assembled recipes that paint a complete portrait of Rome's cucina ebraica, from long-rooted favorites like concia and pomodori a mezzo to the spiced and garlicky cershi and tbeha of the Libyan diaspora." — Katie Parla, author of Food of the Italian Islands