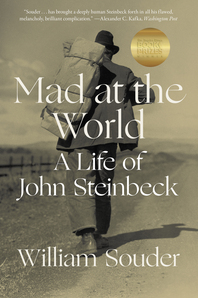 Mad at the World
A Life of John Steinbeck
Description
A biography of one of America's most popular and misunderstood authors, John Steinbeck.
This first full-length biography of the Nobel Laureate to appear in a quarter century explores John Steinbeck's long apprenticeship as a writer struggling through the depths of the Great Depression, and his rise to greatness with masterpieces such as The Red Pony, Of Mice and Men and The Grapes of Wrath. His most poignant and evocative writing emerged in his sympathy for the Okies fleeing the dust storms of the Midwest, the migrant workers toiling in California's fields and the labourers on Cannery Row, reflecting a social engagement—paradoxical for all of his natural misanthropy—radically different from the writers of the so-called Lost Generation.
A man by turns quick-tempered, contrary, compassionate and ultimately brilliant, Steinbeck took aim at the corrosiveness of power, the perils of income inequality and the growing urgency of ecological collapse, all of which drive fierce public debate to this day.
Reviews
"[Mad at the World] highlights the staggering amount of work he [Steinbeck] fitted into his overflowing life... highly readable..." — The Sunday Times
"William Souder's Mad at the World is the first significant biography of Steinbeck since Jackson L. Benson's... The True Adventures of John Steinbeck, Writer. It is readable, admiring and compact, and provides a narratively energetic look at a man who suffered many of the same weaknesses as his characters — for booze, benzedrine, depression and bad marriages... Souder writes well, and this is a good place to start reading (or rereading) about Steinbeck." — Scott Bradfield, The Spectator
"A comprehensive new biography of America's best-known novelist of the Great Depression arrives at a timely moment." — 17 New Books to Watch For in October, The New York Times
"Souder's sympathy for Steinbeck… is most effective and eloquent in his depiction of the California landscape or of the sea, which he describes as swimming with small pelagic crabs "like a crimson carpet spread across an ocean the color of lapis lazuli"." — Brenda Wineapple, The New York Times Book Review
"Painstakingly researched, psychologically nuanced, unshowy, lucid... [Souder] has brought a deeply human Steinbeck forth in all his flawed, melancholy, brilliant complication." — Alex Kafka, The Washington Post
"[An] appreciative yet clear-eyed assessment." — Wendy Smith, The Boston Globe