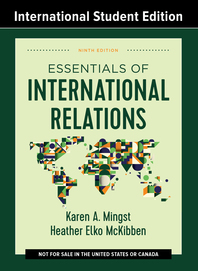 Essentials of International Relations
Ninth Edition
12 March 2021
Territory Rights — International Edition: World excluding the USA, its dependencies, and Canada.
Description
Classic perspectives and current coverage.
With a new chapter on the environment, and extensive coverage of the coronavirus pandemic and global health, Heather McKibben continues to enliven Karen Mingst's classic, concise text. Refined and expanded InQuizitive activities help students learn, retain and apply key concepts to real-world events. Plus, new biweekly News Analysis activities help students apply the main theories of the text to contemporary real-world examples they would encounter in the media.
Digital Teaching and Learning Tools
News Analysis Activities
These NEW biweekly activities help students apply key course concepts to current issues. Each News Analysis activity includes a link to a contemporary news story and is supported by a suggested activity for class discussion.
InQuizitive
An award-winning, easy-to-use adaptive learning tool. InQuizitive helps students understand and apply the concepts in international relations and also helps students understand and apply the theoretical perspectives to real-world scenarios
Enhanced EBook
An enhanced reading experience, students can take notes, bookmark, search, and highlight. Instructors can add notes for students, and all readers can sync across devices and read offline.