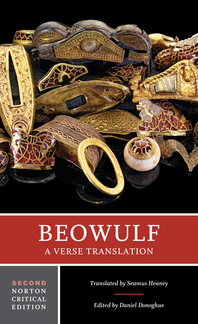 Beowulf: A Verse Translation
Second Edition
19 March 2019
Description
"Accomplishes what before now had seemed impossible: a faithful rendering that is simultaneously an original and gripping poem in its own right." —New York Times Book Review
This Norton Critical Edition includes:

• Nobel Laureate Seamus Heaney's poetic translation of the great Anglo-Saxon epic—winner of the Whitbread Prize—along with his translator's introduction.
• Detailed explanatory annotations and an introduction to Old English language and prosody by Daniel Donoghue.
• More than two dozen visuals, including, new to the Second Edition, a fine selection of objects from the Staffordshire Hoard.
• A rich array of Anglo-Saxon and early northern civilisation materials, providing student readers with Beowulf's cultural and historical context.
• Nine critical interpretations, three of them new to the Second Edition.
• A glossary of personal names and a selected bibliography.
Reviews
"Magnificent, breathtaking... Heaney has created something imperishable and great that is stainless—stainless, because its force as poetry makes it untouchable by the claw of literalism: it lives singly, as an English language poem." — The Guardian