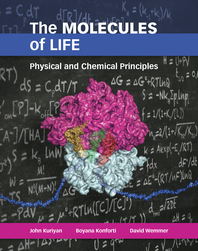 BIOLOGICAL MECHANISMS EXPLAINED AT THE LEVEL OF MOLECULAR STRUCTURE

The central theme of the text is that the ways in which proteins, DNA, and RNA work together in a cell are connected intimately to the structures of these biological macromolecules. The structures, in turn, depend on interactions between the atoms in these molecules and on the interplay between energy and entropy. This results in the remarkable ability of biological systems to self-assemble and control their own replication.

CLEAR, CONSISTENT PEDAGOGICAL FEATURES DRIVE UNDERSTANDING

A quantitative treatment of energy and the statistical basis of entropy is central to our approach. Detailed, clear derivations of equations and ample end-of-chapter practice problems ensure that even students without a physical chemistry background will develop mastery of important concepts.

MODULAR AND APPLIED PRESENTATION OF CONCEPTS

Rather than being encyclopedic, the text has been written and organised to be flexible so that it easily fits the course goals of many instructors. Chapters are filled with interesting examples that engage students as they learn important concepts.