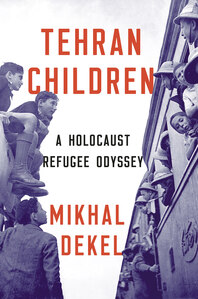 Tehran Children
A Holocaust Refugee Odyssey
Description
The extraordinary true story of Polish-Jewish child refugees who escaped the Nazis and found refuge in Iran.
Rather than perish in Nazi-occupied Poland, more than a million Jews escaped to the Soviet Union. There they suffered deprivation in Siberian gulags and "Special Settlements" and then, once "liberated", journeyed to the Soviet Central Asian Republics. The majority lived out the war in Uzbekistan and Kazakhstan; some of them continued to Iran. The story of their suffering has rarely been told.
Following in the footsteps of her father, one of a thousand refugee children who travelled to Iran and later to Palestine, Dekel fuses memoir with historical investigation in this account of the all-but-unknown Jewish refuge in Muslim lands. Along the way, Dekel reveals the complex global politics behind this journey, discusses refugee aid and hospitality, and traces the making of collective identities that have shaped the post-war world—the histories nations tell and those they forget.
Reviews
"... a highly personal, journalistic memoir and a valuable addition to Holocaust history... What makes Dekel's study so valuable is not just its assiduous detailing of one family's fate during the second world war, but how it also makes us reflect on our current era, with its mass migrations of desperate people fleeing conflict and hardship only to meet inflamed nativism and the desire to shift responsibility for their fate from one country on to the next." — The Guardian
"Tehran Children is the story of Dekel's quest to understand where her father came from […] that speaks to the terrors of the twenty-first century." — Times Literary Supplement
"... intriguing story..." — The International New York Times
"Groundbreaking... The strength of Dekel's book is that it moves beyond the narrative binary of "warm hospitality" and "abuse" to show the grey spaces in between... it is hope that lies at the center of this moving, heartbreaking testimony... hope that untold suffering can, and sometimes does, come to an end." — Arash Azizi, Iran Wire
"Part-history, part second-generation memoir, Tehran Children sheds light on a previously neglected episode of the Holocaust." — Jerusalem Report
"... compelling and personal narrative...This book is an important part of Holocaust history. A tragic story, full of sadness and suffering yet also hope." — Methodist Recorder
Awards
Shortlisted — National Jewish Book Award, 2019
Shortlisted — Sami Rohr Prize for Jewish Literature, 2020
Shortlisted — Chautauqua Prize, 2020