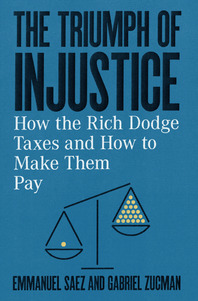 The Triumph of Injustice
How the Rich Dodge Taxes and How to Make Them Pay
Description
A searing examination of a key driver of American inequality—the tax system.
Even as they became fabulously wealthy, the rich have seen their taxes collapse to levels last seen in the 1920s. Meanwhile working-class Americans have been asked to pay more. The Triumph of Injustice is a forensic investigation into this dramatic transformation. Emmanuel Saez and Gabriel Zucman, economists who revolutionised the study of inequality, demonstrate how the super-rich pay a lower tax rate than everybody else. In crystalline prose they dissect the deliberate choices and the sins of indecision that have fuelled this trend: the gradual exemption of capital owners; the surge of a new tax-avoidance industry and, most critically, tax competition between nations.
It is not too late to change course. Instead of competition, we could choose cooperation, finding ways to create a tax regime that serves universal, democratic ends. The Triumph of Injustice offers a visionary and practical reinvention of taxes for that globalised world.
Reviews
"Written by Emmanuel Saez and Gabriel Zucman... it analyses how the super-rich dodge taxes, what this means and what to do about it... Theirs is a cogent, reasoned and practical argument against the "tax competition" that has sent so many corporate profits to Ireland or Bermuda and they give clear and compelling policy solutions to change the direction of society itself. It is a hope-inspiring book that should inform the manifesto of anyone keen to defend liberal democracy from the twin threats of inequality and multinational corporate power. Their recommendations would take back control, but for real, this time. The proposals put forward by Zucman and Saez deserve to be read in full, but are elegantly explained and well formulated." — The Guardian
"[T]he most important book on government policy that I've read in a long time." — David Leonhardt, The New York Times
"America is tired with inequality and oligarchy. Armed with eye-popping new data, Emmanuel Saez and Gabriel Zucman reveal how tax injustice is fueling the oligarchic drift. But above all, they propose bold solutions to help America reconnect with its tradition of tax justice, from the taxation of extreme wealth and giant corporations to the funding of health care for all. This is a brilliantly argued book that is an essential contribution to the global economic and political debate of the twenty-first century." — Thomas Piketty, author of Capital in the Twenty-First Century
"Saez and Zucman are leading figures in the detailed empirical analysis of inequality. In this important book, they document the perverse characteristics of the US tax system, which is now "a giant flat tax [that becomes] regressive at the top"." — Financial Times