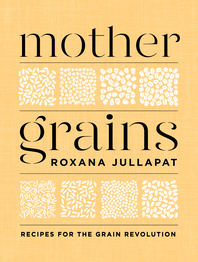 Mother Grains
Recipes for the Grain Revolution
Description
100 craveable recipes to kick-start baking, cooking and eating ancient grains, from a celebrated California baker.
Owner of the popular Los Angeles bakery Friends & Family, Roxana Jullapat knows that all-purpose flour is an easy route to success. But for cooks eager to use the new array of grains grown locally in the United States and their flours, she has more than eighty creations, many drawn from the familiar pastry case of cookies, cakes, scones, breads and pies, only with an alternative, healthier kick.
Organised around the eight "mother" grains—barley, buckwheat, corn, oats, rice, rye, sorghum and wheat—this cookbook bursts with the chewiness of rye chocolate chip cookies, the intensity of white cheddar cornmeal biscuits and the rich earthiness of sorghum pecan pie. With recipes from corn polenta ice cream to shiitake mushroom, leek and toasted barley soup, and enough variations to inspire a range of sweet and savoury cooking, Mother Grains—featuring shopping and storing tips, essays on the history of each grain and sunny step-by-step photos—should sit on any devoted baker's shelf.
Reviews
"[Mother Grains] gives home bakers a taste of what's been going on in many of the best bakeries lately, illustrating how diversifying your flour pantry and leaning on full-flavored grains like buckwheat, sorghum, rye, barley, and heirloom wheat is a bit like switching from coloring with graphite pencil to painting with a rainbow palette." — Best New Cookbooks of Spring 2021, Maggie Hoffman, Epicurious
"[Mother Grains] make baking with the world of ancient grains more accessible and exciting than ever." — Bon Appétit