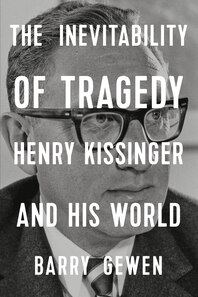 The Inevitability of Tragedy
Henry Kissinger and His World
Description
A fresh portrait of Henry Kissinger focusing on the fundamental ideas underlying his policies: realism, balance of power and national interest.
The Inevitability of Tragedy is a fascinating intellectual biography that examines Henry Kissinger's role in American government through his ideas. It analyses the continuing controversies surrounding Kissinger's policies in such places as Vietnam and Chile by offering an understanding of his definition of realism; his belief that foreign affairs must be conducted through a balance of power; and his view that promoting democracy is likely to result in defeats for the United States.
Barry Gewen places Kissinger's ideas in a European context by tracing them through his experience as a refugee from Nazi Germany and exploring the links between his notions of power and those of his mentor, Hans Morgenthau, as well as those of two other German-Jewish émigrés—Leo Strauss and Hannah Arendt—who shared his concerns about the weaknesses of democracy.
Reviews
"Gewen's book… is distinctive in that it is, above all, an account of Kissinger's intellectual universe." — Gideon Rachman, Financial Times
"Gewen seeks to escape [a] cartoon depiction of Kissinger... He does so successfully with sympathy for his subject, subtlety, good writing and not a little humour... Gewen tells us that Kissinger is more than a figure out of history, and that we dismiss or ignore him at our peril… Where are the 21st-century's Henry Kissingers when we need them?" — Christopher Meyer, The Spectator
"A timely new book on Henry Kissinger—The Inevitability of Tragedy by Barry Gewen—provides new insight into what might have gone wrong and landed the US in a late imperial funk." — Iain Martin, The Times
"[Gewen] remind[s] us of a very interesting and complex personality." — Roger Boyes, The Times
"In this magisterial account, Gewen… traces the historical and philosophical roots of Kissinger's famous realism, situating him in the context of Hannah Arendt and a cohort of other Jewish intellectuals who escaped Nazi Germany." — 100 Notable Books of 2020, The New York Times Book Review