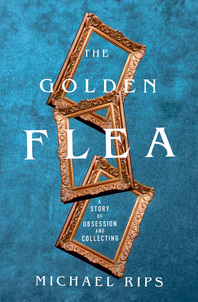 The Golden Flea
A Story of Obsession and Collecting
April 2020
Territory Rights — Worldwide including Canada, Singapore and Malaysia, but excluding the British Commonwealth.
Description
An enchanting tale of the search for forgotten treasures at one of the greatest flea markets on earth.
Across America and around the world, people wander through flea markets to search for lost treasures. For decades, no such market was more renowned than the legendary Chelsea flea market, which sprawled over several blocks and within an old garage on the west side of Manhattan. Visitors would trawl through booths crammed with vintage dresses, rare books, ancient swords, glass eyeballs, Afghan rugs, West African fetish dolls, Old Master paintings, and much more.
In The Golden Flea, the acclaimed writer Michael Rips takes readers on a trip through this charmed world. With a beguiling style that has won praise from Joan Didion and Susan Orlean, Rips recounts his obsession with the flea and its treasures and provides a fascinating account of the business of buying and selling antiques. Along the way, he introduces us to the flea's lovable oddball cast of vendors, pickers, and collectors, including a haberdasher who only sells to those he deems worthy; an art dealer whose obscure paintings often go for enormous sums; a troubadour who sings to attract customers; and the Prophet, who finds wisdom among all the treasures and trash.
As Rips's passion for collecting grows and the flea's last days loom, he undertakes a quest to prove the provenance of a mysterious painting that just might be the one.
Reviews
"[Rips] has humanity, humor and the gift of a limpid, agile, unpretentious prose style…A captivating portrait." — Ben Downing, Wall Street Journal
"[Rips] captured the singular vocational pull of the collector, and in doing so…show[s] us the whimsical and strange roots that run deep beneath stuff." — Lauren Kane, Paris Review "Staff Picks"
"Discovering the flea through Rips's experience is magnificent, but the human influence on the transactions…give it true beauty." — Shelf Awareness
"A tender, passionate, melancholy elegy." — Luc Sante, Bookforum
"A wry and engaging ode to a bygone aspect of N.Y.C. culture." — Publishers Weekly
"Michael Rips's surreal style is perfectly suited to the wondrous world of flea markets. The Golden Flea delights with portraits of people on the margins of city life, the eccentric and easy-to-ignore pickers, collectors, vendors, and others obsessed with laying claim to a piece of the past. In describing his own fortunes and follies in that world, Rips captures the best and worst of what it means to collect." — Kirk Wallace Johnson, author of The Feather Thief
"I love this book so much I decided to mark my favorite bits with asterisks and ended up with something that looked like the Milky Way galaxy." — Patricia Marx, author of Why Don't You Write My Eulogy Now So I Can Correct It?
"An extraordinary portrait of a New York filled with unlikely treasures, human and material. Michael Rips is a magician of seeing, and only he could have come up with this enchanted construction." — Joseph O'Neill, author of Netherland
"Michael Rips writes with a unique combination of sly humor, close observation, and sympathy. He takes the philosopher's long view, is impressively open, and treasures all manner of people and experiences. He finds gold in stories that might otherwise go unremarked. This book is exemplary in its inclusiveness, humanity, and wit." — David Salle, author of How to See