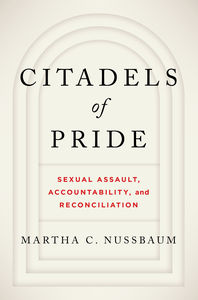 Citadels of Pride
Sexual Abuse, Accountability, and Reconciliation
Description
An essential moral, philosophical, and practical reckoning with the laws we put in place to address the problem of sexual abuse and harassment.
In this groundbreaking book, Martha C. Nussbaum brings necessary clarity to the societal challenges of sexual abuse and harassment, illuminating the pride and greed that lead men to objectify and dominate others and the thirst for revenge that can distort the aims of justice.
In the context of a clear and bracing legal history of accountability for sexual assault and the legal recognition of sexual harassment, Nussbaum confronts three "citadels of pride"—the judiciary, the arts and sports. Exposing prideful privilege in the intellectual world, unpunished narcissism in the arts, and toxic masculinity and corruption in sports, she discusses egregious cases of male entitlement leading to sexual abuse and exploitation. She examines both successful and unsuccessful efforts to address these situations and proposes solutions.
Laying out a hopeful way forward, Nussbaum offers a path to accountability without malice and generosity without capitulation.
Reviews
"Nussbaum is a clear and compelling thinker whose work on the law has always been refreshing and bracing..." — Madhavi Menon, Times Literary Supplement