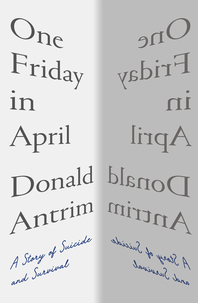 One Friday in April
A Story of Suicide and Survival
Description
A searing and brave memoir that offers a new understanding of suicide as a distinct mental illness
As the sun lowered in the sky one Friday afternoon in April 2006, acclaimed author Donald Antrim found himself on the roof of his Brooklyn apartment building, afraid for his life. In this moving memoir, Antrim vividly recounts what led him to the roof and what happened after he came back down: two hospitalisations, weeks of fruitless clinical trials, the terror of submitting to ECT—and the saving call from David Foster Wallace that convinced him to try it—as well as years of fitful recovery and setback.
One Friday in April reframes suicide—whether in thought or action—as an illness in its own right, a unique consequence of trauma and personal isolation, rather than the choice of a depressed person. A necessary companion to William Styron's classic Darkness Visible, this profound, insightful work sheds light on the tragedy and mystery of suicide, offering solace that may save lives.
Named one of the Most Anticipated of Books of 2021 by The Los Angeles Times, Literary Hub and The Millions.
Reviews
"As a memoir, the book is superb, rich with all the details and vocabularies that comprise any de-mystification of illness." — Patrick Nathan, Boston Globe
"A work of solace for the many people who have encountered this fear or lived with its aftermath." — The Millions
"A profound, courageous, compassionate masterpiece...inspiring and essential... This book is an act of generosity; Antrim is trying to tell us something deeply true not just about the suicidal, but about all of us; about our culture, about the way we live, about how we might lead better, more authentic, more connected lives." — George Saunders, author of Lincoln in the Bardo
"[A] clear-eyed and unsentimental study of one of the most mysterious and misunderstood human experiences. It is what one expects from great art: life-sustaining and life-confirming." — Yiyun Li, author of Where Reasons End
"[An] engrossing, necessary book — part memoir, part philosophical treatise" — Heather Clark, The New York Times
"The suicided are by definition silent. We can never know what impelled them over the last threshold. Antrim's report from the brink is as close as we can get to their voice. It's a remarkable document... One Friday in April… deepen[s] the empathy of all who read it." — Jonathan Buckley, Times Literary Supplement