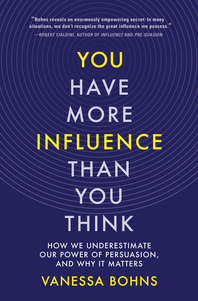 You Have More Influence Than You Think
How We Underestimate Our Power of Persuasion, and Why It Matters
Description
An original investigation of our hidden potential to persuade, and how to wield it wisely.
Whether attending a meeting, sharing a post online or mustering the nerve to ask for a favour, we often assume our actions, input and requests will be overlooked or rejected. However, as behavioural psychologist Vanessa K. Bohns reveals, people see us, listen to us and agree to do things for us much more than we realise.
In You Have More Influence Than You Think, Bohns draws from original research to illustrate why we fail to recognise the influence we have already and how that lack of awareness can lead us to miss opportunities or accidentally misuse our power. She offers strategies for observing the effect we have on others, reconsidering our fear of rejection and even, sometimes, pulling back to use our influence less. You Have More Influence Than You Think is an "enormously empowering" (Robert Cialdini, author of Influence) call to anyone who has ever felt ineffective or invisible to recognise their power and wield it accordingly.
Reviews
"... Vanessa Bohns... presents great insights on the many ways in which we influence the people around us, and the implications this has for how we interact at work, in our personal lives and in society at large. A must read..." — Books to Read on Vacation, London Business School think
"Bohns reveals an enormously empowering secret: In many situations, we don't recognize the great influence we possess." — Robert Cialdini, New York Times bestselling author of Influence and Pre-suasion
"The sense of reciprocity may also explain why positive feedback can be such a powerful tool in the workplace. A study by researchers at technology company Intel and Duke University in the US showed that verbal praise was more effective at increasing productivity than cash bonuses. 'People generally don't realise that something so small could have such a big impact,' explains Vanessa Bohns, a professor of social psychology at Cornell University, US, and author of You Have More Influence Than You Think." — BBC Worklife
"Unlike other books on this subject, which tend to focus on how we can increase our influence, Bohns tries to explain how we can employ the influence we already possess but might not appreciate we have." — Business Books Roundup September, Financial Times
"In 1893, Czech composer Antonin Dvorák prophesied a "great and noble" future for classical music in America based on "negro melodies". His prophecy failed to materialise — but here, in a blend of analysis and polemic, Joseph Horowitz challenges the standard narrative to give African-American composers the recognition they deserve." — Best Books of 2021: Classical Music, Financial Times