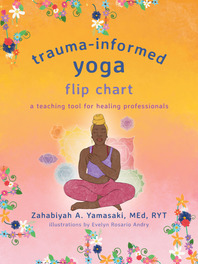 Trauma-Informed Yoga Flip Chart
A Teaching Tool for Healing Professionals
Description
An essential tool for sharing the basics of trauma-informed yoga with healing professionals, students and clients.
Trauma-Informed Yoga Flip Chart is a compassionate educational tool for anyone looking to share trauma-informed yoga as a healing modality with others. Featuring beautiful illustrations, this practical and evidence-based flip chart explores concepts such as the neurobiology of trauma, the nervous system, the impact of trauma on the chakras and a detailed overview of the frameworks of trauma-informed yoga. The flip chart format is an accessible and interactive way for healing professionals (including therapists, educators and yoga teachers) to explain trauma-informed yoga to clients or to train other professionals in this modality.
Designed for a multitude of audiences who are interested in exploring holistic frameworks of care, this is a comprehensive toolkit for anyone holding space for the nonlinear journey of healing through a trauma-and nervous-system-informed perspective.