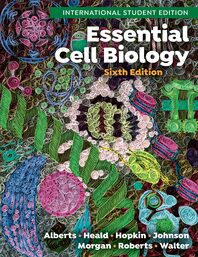 Essential Cell Biology
Sixth International Student Edition
23 June 2023
Territory Rights — International Edition: World excluding the USA, its dependencies, and Canada.
Description
The gold-standard cell biology textbook, optimized for digital learning and engagement.
Essential Cell Biology features lively, clear writing paired with exceptional illustrations and Dynamic Figures in the Norton Illumine Ebook, making it the ideal textbook for a first course in cell biology. The Sixth Edition incorporates new research throughout, highlighting emerging research areas like COVID-19. Check Your Understanding questions with rich answer-specific feedback throughout each chapter in the Illumine Ebook allow students to assess their reading comprehension, while Smartwork problems provide the opportunity for concept application and practice.
Digital Teaching and Learning Tools
Smartwork
This easy-to-use online assessment tool helps students become better problem solvers. It offers new critical thinking questions, several interactive question types, answer-specific feedback, instructor flexibility, and LMS integration.
Norton Illumine Ebook
Norton's high-quality content shines brighter through engaging and motivational features that illuminate concepts in a supportive environment. Students' progress is tracked in your LMS as they work toward completion.
Videos and Animations
Over 150 videos and animations bring important concepts to life. The clips have been updated and expanded and are integrated throughout the text and resources package, with links in the Norton Illumine Ebook and as embedded elements in Smartwork.