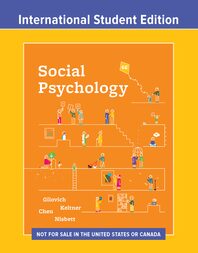 Social Psychology
Sixth International Student Edition
23 June 2023
Territory Rights — International Edition: World excluding the USA, its dependencies, and Canada.
Description
The science of social psychology delivered as a dynamic, interactive reading experience
Social Psychology is now available as a Norton Illumine Ebook, using active learning to help develop students' scientific thinking skills. Led by Tom Gilovich, the award-winning author team challenges students to think critically about the concepts, controversies, and applications of social psychology. The Sixth Edition is thoroughly updated with current research and fresh examples and includes a new chapter, "Living in a Prejudiced World," that addresses the experience of living with stereotyping and discrimination. InQuizitive online assessment, now enhanced with new interactives, reinforces important concepts through retrieval practice, and Norton Teaching Tools, the Norton Testmaker test bank, and new Analyze the Claim writing assignments help instructors build an engaging course with minimal preparation time.
Digital Teaching and Learning Tools
InQuizitive
An award-winning, easy-to-use adaptive learning tool created by a cognitive psychologist. Using evidence-based principles of learning, InQuizitive helps students retain key concepts, learn to apply them, and come to class prepared.
Norton Illumine Ebook
Norton's high-quality content shines brighter through engaging and motivational features that illuminate concepts in a supportive environment. Students' progress is tracked in your LMS as they work toward completion.