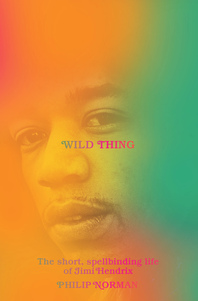 Description
New York Times Book Review • "The Best Books to Give This Year"
Publishers Weekly • Best Books of the Year (Nonfiction)
A shattering new biography of rock music's most outrageous—and tragic—genius.
Over fifty years after his death, Jimi Hendrix (1942–1970) is celebrated as the greatest rock guitarist of all time. But before he was setting guitars and the world aflame, James Marshall Hendrix was a shy kid in Seattle, plucking at a broken ukulele and in fear of a father who would hit him for playing left-handed. Bringing Jimi's story to vivid life against the backdrop of midcentury rock, and with a wealth of new information, acclaimed music biographer Philip Norman delivers a captivating and definitive portrait of a musical legend.
Drawing from unprecedented access to Jimi's brother, Leon Hendrix, who provides disturbing details about their childhood, as well as Kathy Etchingham and Linda Keith, the two women who played vital roles in Jimi's rise to stardom, Norman traces Jimi's life from playing in clubs on the segregated Chitlin' Circuit, where he encountered daily racism, to barely surviving in New York's Greenwich Village, where was taken up by the Animals' bass player Chas Chandler in 1966 and exported to Swinging London and international stardom.
For four staggering years, from 1966 to 1970, Jimi totally rewrote the rules of rock stardom, notably at Monterey and Woodstock (where he played his protest-infused rendition of the "Star-Spangled Banner"), while becoming the highest-paid musician of his day. But it all abruptly ended in the shabby basement of a London hotel with Jimi's too-early death. With remarkable detail, Wild Thing finally reveals the truth behind this long-shrouded tragedy.
Norman's exhaustive research reveals a young man who was as shy and polite in private as he was outrageous in public, whose insecurity about his singing voice could never be allayed by his instrumental genius, and whose unavailing efforts to please his father left him searching for the family he felt he never truly had. Filled with insights into the greatest moments in rock history, Wild Thing is a mesmerizing account of music's most enduring and endearing figures.
Reviews
"Groovy . . . Where Wild Thing succeeds, sometimes spectacularly, is in its retelling of the Hendrix fairy tale: the story of little motherless 'Buster' Hendrix, pigeon-toed from years of too-small shoes, rising out of deprivation and the blue-cold Seattle winter to storm the spires of rock and roll. The details have a strange glimmer . . . And a sadness sets in as one reads the last two chapters of Wild Thing. It's the sensation of Hendrix slipping out of the story, out of this world." — James Parker, The Atlantic
"Jimi Hendrix seemed to have it all, including an origin story fit for a Greek tragedy, one skillfully narrated by the prolific Philip Norman. . . September 2020 marked the 50th anniversary of his untimely death at 27, and much has already been written about his tragic life. But in Norman's hands, that life becomes even more astounding thanks to an abundance of rich details. . . . Norman is strong when writing about race." — Lauretta Charlton, New York Times Book Review, "The Best Books to Give This Year"
"Philip Norman is the accomplished author of more than 20 books, including biographies of such members of the rock peerage as Buddy Holly, the Beatles, the Rolling Stones and Eric Clapton, and the real value of his book lies in the almost casual comments he offers about Jimi's one-of-a-kind brand of rock 'n' roll." — David Kirby, Wall Street Journal
"Wild Thing celebrates the life of a musician whose star shone all to briefly. . . . No other artist embodies the mythologies of rock 'n' roll like Jimi Hendrix. Philip Norman chronicles the life and times of this trailblazer and explores the contradictory personas that make up this inimitable figure in 20th-century music." — Happy Mag (UK)
"In this rollicking biography, Norman (Paul McCartney) follows the electric guitar god from hardscrabble Seattle boyhood to enormous fame and his 1970 martyrdom to rock-star excess. . . . Norman combines colorful, energetic picaresque [with] lush evocations of Hendrix's sound. . . . Norman's entertaining, psychedelically tinged portrait shows why Hendrix made such a deep impression on rock 'n' roll." — Publishers Weekly, starred review
"A fascinating exploration into the man, the myth, the legend that was Jimi Hendrix. . . . Part celebration, part investigation, Wild Thing is the most boundary-pushing Hendrix documentation yet and is sure to get music lovers and pop culture enthusiasts talking as the anniversary of his death nears. Philip Norman has established quite the reputation himself. . . Wild Thing is another masterstroke from the Londoner." — Tom Parker, Beat Magazine
"Philip Norman, in a brisk and efficient accounting of a brief life, explores the theories that accompanied the death of someone who stood apart, not just in terms of his obvious talents but in his ability to seek to fuse rock with jazz and even funk, and who had the divine touch of infecting others' songs . . . with something both personal and spectacular. . . . Norman, with the proper responsibility of the assiduous biographer, goes over the fateful day [of his death] and talks of the 'what ifs' and 'maybes.' But there was a weary inevitability to the death of the guitarist. . . . Norman is a practiced biographer of rock legends. . . . It is wonderful to be reminded of how small was that world of popular entertainment in the USA." — Glasgow Herald
"A perceptive look at the rock superstar. . . . Norman has created a successful niche for himself writing first-rate biographies of rock musicians, including John Lennon, Mick Jagger, Eric Clapton, Elton John, and Buddy Holly. Add to that esteemed list James Marshall Hendrix (1942-1970). . . . An intimate, accomplished biography of a peerless musician." — Kirkus Reviews
"Nothing less than thrilling. . . . [T]he definitive biography—comprehensive, intelligent, sensitively written and exhaustively researched." — Randolph Hogan, New York Times Book Review, on Shout! The Beatles in Their Generation
"As a biography of the legendary ax man, this is the one. There will be much interest in all things Hendrix on the 50th anniversary of his death this September. As his chronicler, Norman is, most definitely, experienced. Essential for music collections and anyone interested in Hendrix or music of the 1960s." — Library Journal, starred review
"Devotees will relish the new information, while casual readers will find a familiar story told more truly than ever before." — Anthony DeCurtis, Rolling Stone, on John Lennon: The Life
"[Wild Thing is] an almighty great read . . . like taking a step back in time. The characters are so well-depicted that I could remember traits and mannerisms from fifty years ago. I was totally transported into the milieu and now am sort of haunted by the tragedy of it all." — the former Linda Keith, who discovered Jimi Hendrix in 1966
"A balanced look at Hendrix's life and music. . . . Interesting stories include Hendrix's work as a sideman on the chitlin' circuit and for Little Richard and the Isley Brothers. Hendrix's final few days are outlined in chilling detail." — Bret Writer, Vintage Guitar
"A mammoth, haunting, terrific piece of work." — Nellie McKay, New York Times Book Review, on John Lennon: The Life
"The most thorough and insightful biography of McCartney to date." — Jeremy Mikula, Chicago Tribune, on Paul McCartney: The Life