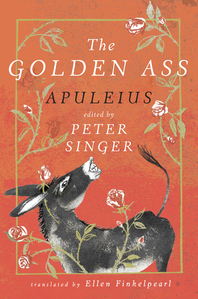 Description
Peter Singer has breathed new life into Apuleius's The Golden Ass—a hilarious, bawdy tale and one of the earliest novels—accentuating its remarkable empathy for animals.
Apuleius's The Golden Ass, one of a handful of extant ancient novels, remains relatively unknown. Peter Singer, the renowned philosopher and author of the modern classic Animal Liberation, remedies this neglect, bringing the comic tale back to the wider reading public. With a version stripped of the many tales extraneous to the main narrative, Singer exposes the core of the text: the adventures of the man-turned-animal, Lucius.
Singer has teamed with Apuleius scholar and translator Ellen Finkelpearl to create a delightful rollicking story in which we follow the adventures of this cocky young man transformed into a donkey, through his travails, erotic adventures and enlightenment. With Singer's vision, superbly illustrated by prize-winning artists Anya and and Varya Kendel, this newly rendered canonical work is bound to be enjoyed by anyone who cares about human and animal life. Afterwords by Singer and Finkelpearl assess the significance of The Golden Ass for our thoughts about animals, ancient and modern.