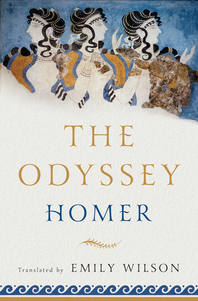 Description
A lean, fleet-footed translation that recaptures Homer's "nimble gallop" and brings an ancient epic to new life.
The first great adventure story in the Western canon, The Odyssey is a poem about violence and the aftermath of war; about wealth, poverty and power; about marriage, family and identity; and about travellers, hospitality and the changing meanings of home in a strange world.
This vivid new translation—the first by a woman—matches the number of lines in the Greek original, striding at Homer's sprightly pace. Emily Wilson employs elemental, resonant language and an iambic pentameter to produce a translation with an enchanting "rhythm and rumble" that avoids proclaiming its own grandeur. An engrossing tale told in a compelling new voice that allows contemporary readers to luxuriate in Homer's descriptions and similes and to thrill at the tension and excitement of its hero's adventures, Wilson recaptures what is "epic" about this wellspring of world literature.
This book has deckle-edged (rough-cut) pages.
Reviews
"The first version of Homer's groundbreaking work by a woman will change our understanding of it for ever... Emily Wilson's crisp and musical version is a cultural landmark. Armed with a sharp, scholarly rigour, she has produced a translation that exposes centuries of masculinist readings of the poem." — Charlotte Higgins, Poetry Book of the Day, The Guardian
"Wilson's approach has been to translate the text in a way that resonates with today's politics. Her translation, spare and provocative, will engage a new generation of students." — Times Literary Supplement
"... Emily Wilson proves an appropriately beguiling female translator... This is certainly an Odyssey for our moment … [a] swift, unornamented text." — The Spectator
"The joy of Homer is precisely the generosity and suppleness of the material, the fact that it resists being read in a single way. That's why a new kind of guide through his wild landscapes, across his wine-dark seas, is to be welcomed." — The Guardian
"Wilson's Odyssey feels like a restoration of an old, familiar building that had over the years been encrusted with too much gilt. Wilson translates as though translation is a moral choice — you owe fidelity not to the author, nor to the protagonist, but to the truth behind the words and the times. She scrapes away at old encrusted layers, until she exposes what lies beneath." — Financial Times
"It is immensely satisfying to see The Odyssey in the hands of such a careful and creative scholar who can pore over the semantic nuances of Homer's Greek as well as those of her own English. Considerations of gender aside, perhaps Wilson's greatest achievement is to disprove the increasingly held view that versions of ancient texts require an established poet to be parachuted in, like a literary James Bond, to rescue their English lines from the prosaic. For a translation of The Odyssey that knows what it is talking about and sings as it speaks, this is the one to read." — New Statesman
"A masterpiece of translation—fluent, elegant, vigorous." — Rowan Williams, University of Cambridge
"As the first English translation of this ancient tale by a woman, this lively, fast-paced retelling of Homer's epic is long overdue. Much as Homer did in his time, Wilson whisks the audience into a realm both familiar and fantastical. The world of Odysseus and his adventures take shape before the reader's eyes, luminescent once more, in this engaging new translation." — Justine McConnell, King's College London
" This will surely be the Odyssey of choice for a generation." — Lorna Hardwick, The Open University
"I am not quite sure why, but this instantly hot-wired me into tears." — Sarah Perry, author of The Essex Serpent
"I think this is a really significant literary moment." — Mark Haddon, author of The Curious Incident of the Dog in the Night-Time
"Friends, believe the hype. This translation is a marvel!... The sheer energy of the iambic pentameter is revelatory. Her word choices! The rhythm and the politics so delicious, so alive. And the man is devious and quick and fit to bursting with arrogance and cunning. He's perfect. It's sublime." — Max Porter, author of Grief is the Thing with Feathers
"The Odyssey translated by Emily Wilson. One of the great narratives of all time. You think you know it ? Not until you read this one. Stunning translation/interpretation." — Susan Hill
"Now we have an excellent new translation of the epic by the British classicist Emily Wilson. Norton trumpets it as "the first English translation of the 'Odyssey' by a woman."... But Wilson's rendering is remarkable in other ways as well." — The International New York Times
"Emily Wilson wipes the dust of ages from Homer's prose in her new translation of The Odyssey. Accessible and entertaining, she provides an elegant rendering of the classic." — Peter Campbell, Favourite reads of 2017 - as chosen by scientists, The Guardian
"There are many other [other than being the first female translation] stunning things about Wilson's translation, from the five-beat lines to the straightforward speech, free from the elegant clunkiness that we usually see when scholars try to carry words over from one language to another. But one of them is certainly an awareness of her own daring." — Eidolon
"... Emily Wilson's brilliant introduction to her new translation of The Odyssey shows the classical world as capable of feminist inflections." — The Observer
"... a monumental piece of work on her part..." — Stig Abell, BBC Radio 4 Front Row
"I thought this was just moving, it was musical, it was direct, it was straightforward […] anyone could read it and really, really enjoy it." — Rosie Goldsmith, BBC Radio 4, Saturday Review
"All the artistic choices work. I must admit when I heard we were reviewing The Odyssey, I thought 'Oh no, it's going to be wordy and dull' […] but it wasn't, it really felt fresh and alive and exciting." — Sophie Hannah, BBC Radio 4, Saturday Review
"... Emily Wilson's terrific new translation..." — The i Paper
"Poetry that reads like a thriller." — R.L. Stine, author of the Goosebumps series
"The new Emily Wilson translation of The Odyssey is brilliant and sharp and swift and funny and will repay the reader a thousand times over." — Katherine Rundell
"Wilson's translation is a superb achievement and a striking departure from the tradition of Homeric translation into English... [She] has produced a wonderfully distinctive—and modern—version of the poem." — London Evening Standard
"The real reason why Emily Wilson's version of this nearly three-millennia-old poem is so important is that it combines intellectual authority with addictive readability." — Edith Hall, The Sunday Telegraph
"Emily Wilson's new translation of the Odyssey speaks of 'a complicated man' with an 'old story for our modern times'." — The Spectator
"Emily Wilson... is the first woman to translate Homer's entire epic into English, and she has produced something extraordinary. In her hands, a work believed to have been written at around the end of the eighth century BC is transformed into something that might have been written yesterday: vivid, exciting and utterly immersive... her accessible and fascinating introduction explains the poem's origins and reception, and such crucial concepts as 'guest-friendship' (xenia)." — The Lady
"Emily Wilson, […] whose translation of The Odyssey – the first translation by a woman, might I add – is currently destroying me, so it's good. You can just tell from the way she writes and from her very ballsy interpretive translation that she's got a wicked, daring mind, and a deeply poetic one." — Hannah Epperson, Female First
"... this new version of The Odyssey... is a fresh and worthwhile addition to the many existing translations, both for newcomers and veteran readers... Wilson offers a neat, accurate and lively verse translation..." — Minerva
"... a perceptive reading of The Odyssey... Readers who want to get a feeling for the poem will find Wilson's translation full of insights..." — London Review of Books
Awards
Shortlisted — American Literary Translators Association National Translation Award, 2018
Commended — New York Times Notable Selection, 2018