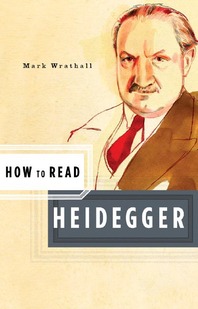 How to Read Heidegger
June 2006
Territory Rights — Worldwide including Singapore and Malaysia, but excluding the British Commonwealth.
Description
Intent on letting the reader experience the pleasure and intellectual stimulation in reading classic authors, the How to Read series will facilitate and enrich your understanding of texts vital to the canon.
Martin Heidegger is perhaps the most influential, yet least readily understood, philosopher of the last century. Mark Wrathall unpacks Heidegger's dense prose and guides the reader through Heidegger's early concern with the nature of human existence, to his later preoccupation with the threat that technology poses to our ability to live worthwhile lives.

Wrathall pays particular attention to Heidegger's revolutionary analysis of human existence as inextricably shaped by a shared world. This leads to an exploration of Heidegger's views on the banality of public life and the possibility of authentic anticipation of death as a response to that banality. Wrathall reviews Heidegger's scandalous involvement with National Socialism, situating it in the context of Heidegger's views about the movement of world history. He also explains Heidegger's important accounts of truth, art, and language.

Extracts are taken from Heidegger's magnum opus, Being and Time, as well as a variety of his best-known essays and lectures.